LJWorld.com weblogs Shop Talk with Jenn and Julie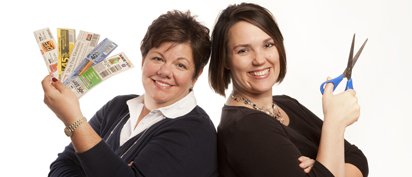 Target 3.5cu ft Chest Freezers .... and Coupons to Help Fill It
One of my favorite money saving tools is my deep freeze. This year, with the growing appetite of my growing brood, my husband brought home more venison than usual and my freezer is full. I mean: almost-can't-close-the-lid-don't-think-about-putting-anything-else-in, full. I'm so used to preparing extra meals, keeping extra bread and cheese, etc on hand and having a few quickie items like Smart Ones or Hot Pockets on hand that I'm at a loss. We are looking into a second freezer, an upright, for me to use for "other food" besides the meat my husband procures.
My point is: I highly suggest that anyone putting effort into saving money should invest in a deep freeze. Even a little extra freezer space can make a world of difference in your budget. This week, Target has a 3.5cu ft. chest freezer on sale for $129, normally $160. This obviously is not big enough for a family of 5 like mine, but for a small family or a single person this would be perfect.

Gold N Plump whole 3.5lb chickens are on sale for $3.49 ... I stock up on these and use them throughout the year. This Sticky Chicken recipe for the slow cooker is one of my family's favorites. If you sign up for the Gold N Plump newsletter you will receive coupons via email once a month. This month I received $2/1 ANY Gold N Plump product...that would make these whole chickens $1.50!
Hot Pockets are on sale for $2 and B2G1 Free also at Target this week. Print $0.50/1 coupons then buy 3 (1 will be free) and use 3 coupons. Your final price for 3 boxes of 2 will be $2.50.
Don't pass up the $10 Gift Card w a New or Transferred prescription coupon in the Target Flyer: other pharmacies around town (including CVS and Dillons) will honor competitor's coupons... I like to use mine at Dillon's where I earn $10 towards my groceries!
Recently I've had a lot of dental work done over at Personalized Family Dental Care. Not that I necessarily take lousy care of my teeth, but I do tend to procrastinate when there are issues. With pregnancy and breastfeeding over the last 5 years I've put off work that needed to be done. Now I'm all clean and fixed up, I want to make sure I'm doing what I can to avoid that much work again. I'm super happy to see coupons in this weekend's inserts for Phillips Sonicare toothbrushes AND the brush head replacements.
A few of my other favorite coupons in this weekend's inserts:
$0.75/1 General Mills Wheaties
$0/75/1 Dole Fruit Crisp
$1/1 Cream of Wheat
$0.50/1 Whole Fruit Fruit Bars or Sorbet
You will also find many printable coupons at Coupons.com including coupons for cereal, yogurt, gluten free foods, cleaning supplies and much more.