LJWorld.com weblogs Shop Talk with Jenn and Julie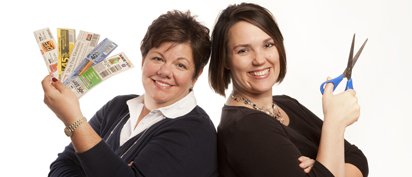 This recipe sold me on San Marzano tomatoes.
During the winter months, I like to spend a lot of time in the kitchen. I'm not much of a baker, but I do love to cook. I especially like to make recipes that are a reflection of my heritage. Not to mention, my family loves Italian food.
I usually make a traditional spaghetti sauce, whether it's a meat sauce or marinara. I use canned tomato sauce or canned plum tomatoes as the base and go from there.
I had heard about San Marzano tomatoes, but never tried them. Originally, I thought they were a brand. I was wrong. They are a type of plum tomato originally grown in San Marzano, Italy.
Not too long ago, I saw Rachael Ray make a stuffed meatball recipe with a sauce that called for San Marzano tomatoes. The recipe looked really good and seemed pretty easy. I headed to the grocery store with my list in hand, and went about purchasing the ingredients I needed. In my pantry, I always have canned tomatoes, but I was curious about these San Marzano tomatoes. Was there a difference in flavor? I was going to give them a try.
I followed the recipe as listed using turkey sausage. I was anxious to try the sauce. The San Marzano tomatoes are slightly more expensive than traditional canned tomatoes, so I was curious to see if the cost difference was worth it.
We all loved the finished results. There is definitely a flavor difference in this variety of tomato. It is a much richer tomato flavor. I have since switched over, especially when I'm making a marinara sauce. I just heat up some olive oil in my saucepan, add garlic, crushed San Marzanos (I use my potato masher to crush) and basil, salt and pepper to taste. Let that simmer for twenty to thirty minutes and you have a flavorful sauce.
Now about the stuffed meatball recipe . . . like I said, my family loved it. Don't overcook the meatballs. I was reading some of the reader reviews on foodnetwork.com, and there were a few comments that stated the meatballs had become slightly rubbery. I did not experience that.
Mozzarella Stuffed Chicken Sausage Balls with Tomato-Basil Sauce, Cacio e Pepe Potatoes and Roast Broccolini
Ingredients
9-item grocery list:
2 pounds baby Yukon gold potatoes

1 tub bocconcini, bite size fresh mozzarella in water

2 pounds Italian hot or sweet fresh chicken, turkey or pork sausage, bulk if available

1 1/2 pounds broccolini

1 head garlic

1 (28-ounce) can San Marzano tomatoes

1/2 cup chicken stock or milk

1 tub grated Pecorino Romano

1 tub good quality fresh pesto from the refrigerated cases of the market

On hand:
Extra-virgin olive oil, for liberal drizzling, 4 to 5 tablespoons total

Salt and freshly ground black pepper

Directions
Preheat oven to 400 degrees F.
Quarter baby potatoes and cover with cold water. Bring to a boil then salt water and cook until tender, about 12 minutes.
While potatoes come up to a boil, place a nonstick baking sheet alongside a mixing bowl. Remove 12 pieces of bite sized mozzarella from the water and set on work surface. Remove sausages from casings, if bulk not available, and place in a bowl. Combine the meat into a single mound then score it into 4 sections. Each section will yield 3 large sausage meatballs. To form each ball, take a handful of meat and wrap it around a piece of mozzarella. Roll 12 balls. Wash up. Coat balls with a drizzle of olive oil. Bake 18 to 20 minutes until cooked through and evenly browned.
While the balls are cooking, trim ends of clean broccolini and scatter evenly over a baking sheet. Grate or chop 2 to 3 cloves of garlic and drizzle the broccolini and garlic with olive oil, then season with salt and pepper and roast 12 to 15 minutes to crisp the broccolini tops.
While the broccolini is roasting, add tomatoes to a small pot or skillet, mash with a potato masher and season with salt and pepper. Heat over medium heat then simmer to reduce about 8 to 10 minutes.
When the potatoes are tender, drain and return to the hot pot to dry them out a little. Mash the potatoes with 1/2 cup stock or milk, 1/2 to 2/3 cup grated Romano cheese, a few generous handfuls, lots of black pepper and a little salt.
Turn the heat off the tomatoes and stir in 1/2 cup prepared pesto.
Serve three cheese-stuffed sausage balls with tomato-basil sauce on top or underneath, cacio e pepe smashed potatoes and broccolini alongside.

Find more businesses on Marketplace
Arts & Entertainment · Bars · Theatres · Restaurants · Coffeehouses · Libraries · Antiques · Services