LJWorld.com weblogs Shop Talk with Jenn and Julie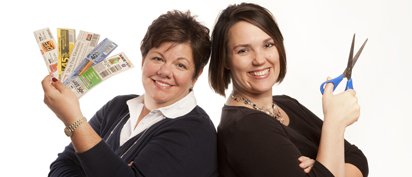 Get Krafty with Target Coupons
There are several items that we buy on a regular basis that I have a price ceiling on. I almost never pay more than $1/box for cereal, I never pay for toothpaste, toothbrushes or nutrition bars. You get the idea. I've decided cheese needs a limit as well. When I see a sale on cheese I gather up as much as I have freezer space because it is normally so expensive. Cheese freezes very well and when I can buy it for less than $1 instead of it's normal $2-4 you better bet I'll be stocking up!
If you missed the one day sale at HyVee last week where they had HyVee brand cheese 12/$12 have no fear....the Kraft deal at Target is here!
In addition to the Kraft coupons that you will find in today's coupon inserts, you can get your hands on many Target printables for the same Kraft products making a nice discount. Here are some of the deals:
Kraft Shredded Cheese
Buy 2 @ $2.04/each = $4.08
Use 1 $1/2 manufacturer's coupon from the Sunday papers
Use 2 $0.75/1 Kraft Shredded Cheese Target printable
Final Price = $1.58/2 or $0.79/each
Kraft String Cheese - $3.99
Use 1 $1/1 Manufacturer's Coupon from the Sunday papers
Use 1 $1/1 Target printable
Final Price = $1.99
Kraft 100 Calorie Cheese Snack Packs - $2.19
Use $0.75/1 Manufacturer's Coupon
Final Price = $0.69
I'm not sure of the exact price on Kraft Salad Dressing but there is a B2G1 Free Target printable. Work the deal like this:
Buy 4 Salad Dressings
Use 2 $1/2 manufacturer's coupons
Use 1 B2G1 Target Printable coupon
Your final price is greatly discounted because not only do you get the Free item, you get the extra discount allotted for that item with the manufacturer's coupons.
Kraft Mayo or Miracle Whip also has stackable coupons totaling a $1.25 discount per item:
$0.75/1 Manufacturer's coupon
$0.50/1 Target Printable Coupon
This is a great example of using coupons to their fullest advantage. Stacking store and manufacturer coupons can get you an even better deal than you originally thought possible!