LJWorld.com weblogs Shop Talk with Jenn and Julie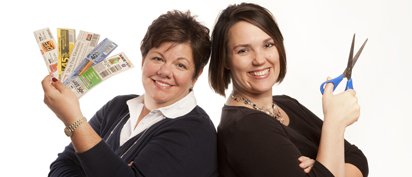 Walgreen's Jumbo Pack Diapers $2.50/each
This week at Walgreen's they have a BOGO sale on their store brand diapers. Good...but it gets better: There is a Walgreen's Infant Care Pamphlet out now with several different coupons in it. This includes a $2/1 W Brand diapers coupon. Use this with the BOGO sale and you will get the Jumbo pack diapers for $2.50 each.
Walgreen's store coupons work slightly differently than manufacturer's coupons. When you check out, you show the cashier the coupon, they scan it, and it automatically deducts the coupon dollar amount from the number of that item you purchased, you do not need one coupon per item and normally the coupon is not taken by the cashier. This is the way the coupons work in their weekly fliers, their monthly savings booklets and special publications like this one.
Work the deal this way:
Buy 2 packages of Jumbo W brand Diapers at $8.99/each
BOGO Sale applies = $4.50/each
Use $2/1 Coupon = $2.50/each Even though one of the packages will be "free" the coupon will still be applied.
Now the trick: Finding the Infant Care Pamphlet. I visited both Walgreen's and while the manager at the 6th and Kasold Walgreen's was unable to find it there, but the Assistant Manager at 23rd and Louisiana was more successful. He found them and placed them at the Pharmacy Counter.
I have always been leery of store brand diapers, I generally don't think they do a very good job. I tried the W brand diapers a couple of years ago and I was really pleased with 1)How soft they were, very much like name brand diapers and 2) How well they held up to well... everything. This is an amazing deal on a very good diaper...if you buy disposable diapers you will definitely want to check out this sale!
loading...
Blog: New poll shows how far Colyer is behind Kobach in one key area

January 5, 2018 · 7 comments

Opinion: Is President Trump's doctor feeling all right?

January 20, 2018 · 13 comments

Federal government shuts down; Dems, GOP blame each other

January 19, 2018 · 3 comments

2018 Women's March looks to bring resistance to downtown Lawrence sidewalks

January 17, 2018 · 26 comments

South Middle School teacher accused of racist remarks last year says district led 'witch hunt' against him

January 19, 2018 · 6 comments

Opinion: Journalism holds power accountable

January 18, 2018 · 26 comments

Kansas utilities say they'll pass on tax-cut savings to customers

January 18, 2018 · 17 comments

Blog: Empty storefronts become a bit more prominent in Lawrence, new report shows; vacancy rate hits recent high

January 19, 2018 · 14 comments

Letter to the editor: Tax truths

January 10, 2018 · 73 comments

Canadian diplomat brings message to Lawrence urging support of NAFTA

January 19, 2018 · 2 comments