LJWorld.com weblogs Shop Talk with Jenn and Julie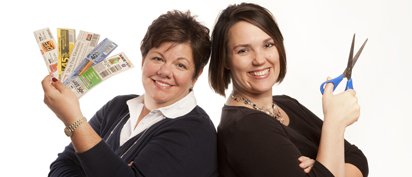 Stuffing the Stocking
With two weeks left until Christmas I'm making my lists and checking them twice, making sure I've got everything that I had planned and that I've finished all of the homemade gifts that I started (still working on that one ....). The to-do that I always leave until the end is filling up those stockings so gently hung by the chimney with care.
I hate shopping for stocking stuffers.

Growing up my mom did a great job filling our socks with fun trinkets and along with the traditional apple, orange a few nuts she would give us one cellophane bag filled with our favorite holiday candy. Mine was always the hard raspberry candies with the soft centers. Mmmmmm.
I digress.
I think my mom did a great job of being creative and not wasting resources or filling our lives with junk. That has not always been my experience with other people in my life, which in turn makes me even MORE appreciative of my mom's minimalist take on this particular Christmas tradition.
I try to do the same for my kids. Instead of filling their stockings with gobs of candy and dollar bin trinkets that will break by December 26th I'm trying to be creative. This year I'm filling their Holiday Hosiery with art and craft supplies.
I shouldn't have taken such a superior attitude towards "Dollar Bin Trinkets" I suppose because I'll be fishing through some of those for said art supplies over at Michael's. From foam stickers to glitter glue and clearance beads and papers there is a virtual treasure trove to be had.
I'm lucky enough to have a space in the kids' toy room to stash these gems so that they don't have to be loose all over the house and each kid has their own bin for storing individual stickers, etc. This makes a more self-sustainable activity for the kids and less of a mess for me.
I've also created flat art boards (pressboard and contact paper) for each kid that can be covered in stickers, used as a hard surface for drawing/coloring/painting or putting together puzzles. These can be easily tucked away under their respective beds when not in use and when they get covered with stickers/glue/glitter/crayons/paint I can change out or cover up the contact paper.
I'm hoping this idea pans out as beautifully as it has in my head and that I'm not cursing said stickers/glue/glitter/crayon and paint come Dec 29 (the "good toys" should hold interest at least that long, right??).

What about you? How do you fill those socks that have been carefully delegated the task of overflowing with bits of fun?
This week Michael's has their actual art supplies on sale: sketch books are buy 1 get 1 free (I use sketch books for SuperBoy who really is a very good little artist. Rather than trying to save each and every drawing he makes for us I have him keep them in the books and I date each book like a journal from the start day to the end day), art easels are 50% off and a variety of artist's gift sets are also on sale.
Looking for something that isn't on the sale list? Michael's has a 50% off one Regular Price Item coupon good for today and tomorrow only as well as a 40% off one Regular Price Item coupon that is valid Tuesday - Saturday.
Michael's has a free app for the iPhone that will have the most recent coupons available, you can have them scan the barcode directly from your phone at the store. Michael's will also accept local competitor coupons and if you have two coupons with different % discounts, you may use both in one transaction.