LJWorld.com weblogs Shop Talk with Jenn and Julie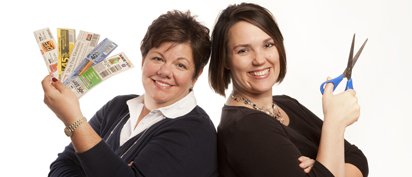 Always the right price at Half Price Books
A month ago I purchased a cookbook at Half Price Books. The book is titled Great Food Fast. It is a compilation of recipes from the Everyday Food magazine (From the kitchens of Martha Stewart Living).
The book is a few years old. The cover price on the jacket is $24.95. I purchased it for $7.98 at the retailer's Lawrence location.
I browsed through the book at the store and couldn't put it down. Since I've brought the book home, it's become my kitchen bible.
The recipes are easy to follow and don't require a lot of ingredients. Each dish is pictured, which I like. I've been needing some inspiration in the kitchen, and this book has definitely been the answer. The book sits on my kitchen island, and every member of my family has picked it up and earmarked recipes they'd like to try.
The book was published in 2007, but who cares. I love shopping at Half Price Books. You never know what you may find on their shelves. And the price is always right.
The following recipe was earmarked by my son. It is what we are having for dinner tonight.
Farfalle with salmon, mint, and peas
Coarse salt
Fresh ground pepper
1pound farfalle (bow ties) pasta
1 1/2 pounds skinless salmon fillet
2 lemons zested and juiced
1 pkg. Frozen peas (10 oz)
2 tbl butter
1/4 cup chopped fresh mint
In a large pot of boiling salted water, cook the farfalle until al dente according to package directions. Drain, reserving 1 cup of the pasta water; return the pasta to the pot.

Meanwhile, season the salmon with coarse salt and ground pepper; place in a large skillet. Add 1/4 cup water and the lemon zest and juice. Bring to a simmer over medium heat. Cover; steam for 10 minutes.

Add the frozen peas; steam covered, until the peas are tender and the salmon is opaque; 6 to 8 minutes.

Transfer to the pot with the pasta. Add the butter and mint. Season with salt and pepper. Toss gently flaking the fish and adding reserved pasta liquid as desired. Serve immediately. Garnish with more mint if desired.
Makes 6 servings.