LJWorld.com weblogs Shop Talk with Jenn and Julie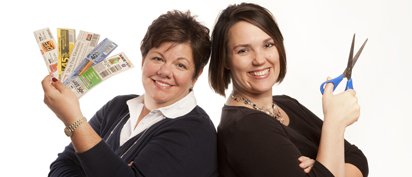 Wal-Mart and Dillons Make Changes to Their Coupon Policies
Several weeks ago I wrote about the new coupon policy at Wal-Mart that would allow you to use Register Rewards from stores such as Walgreen's that were printed with "Manufacturer's Coupons" on the top. This was in addition to stating that coupons for above the purchase price of an item could be used and the overage applied to other items in your cart.
All good things must come to an end; Wal-Mart has revised their policy to exclude the use of catalinas or Register Rewards that are for dollars off of a "basket purchase" meaning off the total of your order. Catalinas accepted will be limited to specific items; for instance if the register at Dillons printed a coupon for $1/1 Crystal Light you could use that catalina coupon at Wal-Mart.
I've heard "rumors" that they were no longer allowing the use of coupon overages to apply towards your entire purchase but in reading the Wal-Mart coupon policy this is specifically highlighted as something they WILL do.
You can download and print the latest revisions and the Wal-Mart coupon policy in its entirety HERE.
The other news in coupon policies is the revisions made to the use of coupons at Dillons. There have been "rumors" that Dillons will no longer double coupons and that they will no longer stack coupons. As of this weekend the only change to their current policy is that they will no longer "stack" eCoupons with paper coupons.
Previously, if you loaded coupons to your Dillons card via Dillons.com these would be automatically applied to your purchase AND you would be able to use an additional paper coupon for the same item. This is no longer the case. If you load eCoupons to your Dillons card those will automatically be applied to your purchase (the eCoupons are good for only ONE purchase of item(s) listed in the coupon description) first and if you attempt to use a paper coupon it will be rejected (the dreaded "beep"). You will not be given the option of using either or...the eCoupon is automatically applied if it is available. This will mean you need to be a little more careful in your planning if you are still going to use the eCoupons for your shopping.
That is the ONLY change to their coupon policy to date. Dillons is still doubling manufacturer's coupons up to $1 and you may still use paper store coupons in addition to paper manufacturer's coupons.
If you have questions regarding the new policy at Dillons be sure to stop in and speak to someone at Customer Service. It has been my experience that they are very friendly and open to discussing coupons with their customers.