LJWorld.com weblogs Shop Talk with Jenn and Julie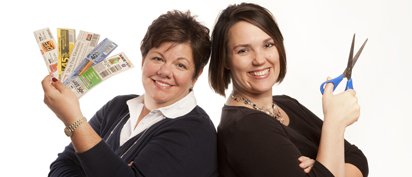 Spicy Black Beans and Rice A Favorite Frugal Fall Recipe
Yesterday we celebrated my youngest son's first birthday. It is amazing to me that he is already an entire year old. It seems that time flies faster with each and every child. We had a great time, he got his first shake at birthday cake, opened up a present from Nana and Grandaddy and fell into bed, exhausted. After he fell asleep my husband and I spent some time reliving the events of September 18, 2009 with a few tears in our eyes.

As I sat down to write I also remember that Shop Talk is one year old! I wrote my very first Shop Talk blog that weekend, from the hospital, delirious and happy to have a healthy baby, despite his being one month premature. I didn't know what to write...this blog is very different from what I write in my own space at SuperJenn. I decided to introduce myself, throw out a few deals and call it an evening.
Today I find that I still don't know how to approach this blog from time to time. There are so many different readers with so many different interests when it comes to saving money...shopping deals and cutting coupons that it seems a little bit of diversity keeps us all a little more interested.
Today, I'm exhausted again. A birthday and a baptism all in one weekend means lots of family and lots of excitement. The rain and slightly cooler temperatures make me dream of fall and the warm, wonderful smells of comfort food. In that spirit, I thought I'd share with you one of my favorite recipes: Spicy Black Beans and Rice. Simple (because I'm tired), Healthy (do I need a reason?), and very inexpensive (because I wouldn't have it any other way).
Spicy Black Beans and Rice
1/2 c. chopped white onion
4 cloves garlic, minced
1 Tbsp. olive oil
1 - 14.5oz can black beans, rinsed and drained
1 - 14.5oz can stewed Mexican Style tomatoes
1/8 - 1/4 tsp. crushed dried pepper
2c. prepared brown rice
Prepare the brown rice according to the package ingredients.

Heat the oil in a saucepan and saute the garlic and onion until translucent. Add the beans, tomatoes and crushed red pepper. Bring to a boil, reduce heat and simmer for approximately 15 minutes.
I've served this not only over rice, but wrapped in a tortilla and as a side dish with a grilled chicken breast.
This week Dillons is hosting a "Cart Buster Sale"and I'm stocking up on the rice, beans and tomatoes needed to make this recipe:
Bush's Black Beans for $0.88 DelMonte stewed tomatoes for $0.88. There is a $1/5 coupon in today's RedPlum. Buy five and the final price is reduced to $0.68 per can. Brown Rice is under $2 for an entire bag.

A healthy, warm meal to bring in the cooler weather without stretching my budget or ruining my diet.
What is ONE item that you will be stocking up on this week? Have you started breaking out the fall recipes yet in anticipation of cooler weather? Be sure to let us know! Also be sure to visit us on our Facebook Page and share your favorite deals and finds!