LJWorld.com weblogs Shop Talk with Jenn and Julie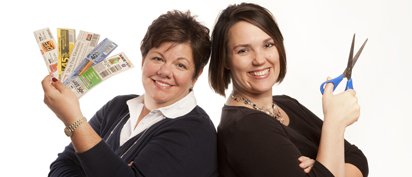 FoodSaver HandHeld System $4.50 Shipped
Sorry! It seems this deal is over...the item is out of stock. Hot deals like this usually go pretty quickly.
We use a FoodSaver for our larger frozen items so I'm really excited to see this deal. This is a deal on the handheld FoodSaver system... normally $29.99 and today you can get it for $4.50 and free shipping! The FoodSaver FreshSaver Hand Held Vacuum Sealing System comes with:
1 FoodSaver Handheld Appliancxe
1 Charging Station
2 Deli Containers
5 Quart Vacuum Zipper Bags
5 Gallon Vacuum Zipper Bags
First visit Shop At Home and either sign in or register. If you are a new customer you will get $5 added to your account just for signing up! Then search FoodSaver.com to begin shopping. You will get an additional 6% cash back for using Shop At Home to make this purchase.
When you are on the FoodSaver.com website search item FSFRSH0057-000. The listed price is $29.99. Add this item to your cart and when you begin to checkout add this promo code: U0FV85FS . The updated price in your cart will be $4.50 plus tax and free shipping.
My friend KeriLyn at SheSaved.com said this deal came around last year and went pretty quickly so if you are interested I wouldn't put it off very long.
Like I said, we are big fans of FoodSaver around here and I'm excited to have this to use with my everyday food as well as our freezer items. I hate having money go down the drain literally because food spoiled before I got to use it.
I'm also on a big kick right now getting Christmas presents lined up for our family... so I added this to the list!