LJWorld.com weblogs Shop Talk with Jenn and Julie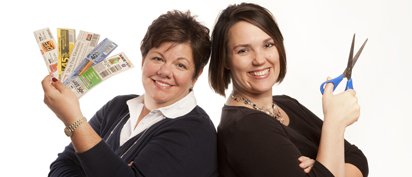 What a Vegetarian Knows about Chicken and Toy Story 3
I was a vegetarian my entire adult life; over 10 years when I met my husband, the hunter. I actually had to do some soul searching to even date the guy. I stayed a vegetarian until I was pregnant with #2; when I actually craved red meat and began to re-introduce it into my diet. Since then I've almost completely re-acclimated myself into the land of the carnivores. Changing my diet was only half the battle; I had to learn how to cook meat as well.
I've learned new techniques, I've learned how to prepare some tried and true recipes. Every now and then I learn something that perhaps the rest of the world already knows...but it is an "Aha!" moment for me. That happened this week when I was making my first chicken noodle soup.
In the course of preparation, I decided to bake my chicken first, then make soup...saves time. What I learned was how easy it was to bake a chicken...my "Aha!" moment came when I realized how easy it would be to double my recipe and freeze the meat for use in a dish sometime down the road. The flavor of the mixed dark and white meat with the seasonings baked in makes a much better flavor in whatever dish I'm going to make next. The best part? It is much cheaper to buy thighs and drumsticks than it is to buy boneless/skinless chicken breasts. Especially when you find a sale like the B1G1 sale at Dillons this week (These ring up at half price).
If you are still leaning like me, or if it just hadn't occurred to you before; here is how I baked my chicken:
Place olive oil in the bottom of a large baking dish (I used 11 x 14) Rinse 3-4 lbs of chicken and place skin side up in dish. Rub olive oil on both sides of the meat. Salt and pepper both sides of the meat. Bake at 400 degrees for 30 minutes then reduce heat to 350 degrees and bake for 10-30 min more.
The chicken was good, I made a double batch to freeze for later and my house smelled amazing. Win, win, win!
Here are a few other notable deals this week:
Spend $30 on Purina Dog Food, get $5 off your next order Buy 2 15lb Bags Beneful @$14.99 Use 2 $2/1 Coupons 10/24 Smart Source $21/30lbs Dog Food After coupons and OYNO You can run this deal many ways, this is the scenario I used
Beginning November 1 Spend $25 on Pampers Diapers and Wipes receive $5 off your next order Buy 2 diapers @$9.99 Buy 1 wipes @$6.99 Use 3 $1/1 coupons from today's P & G insert $17 for 2 packages diapers and 1 box wipes after coupons and OYNO You can run this many ways, this is one example
Toy Story 3 will be released this week. You can print a $8/1 DVD/Blu-Ray Combo Pack HERE
There are a LOT of different deals available on this movie; this one seems the best right now:
Spend $25 on P&G products at CVS and receive $16 off purchase of new Toy Story 3 release. Combine this will the printable coupon above and you can get the movie for almost free. Pair this with many of the deals found in this week's flier and the new P&G insert in today's paper for less than $25 out of pocket.
If you purchase 3 select Campbell's products at the same time as you purchase Toy Story 3 you can submit THIS FORM for a $5 rebate making the deal even better than free.
What are your favorite deals this week? Be sure to leave a comment here or on the Shop Talk Facebook page!