LJWorld.com weblogs Shop Talk with Jenn and Julie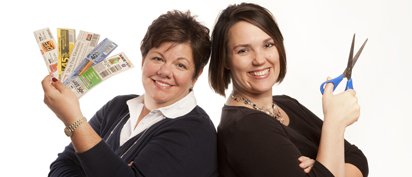 SpiderWeb Cookies and other Halloween Treats
Part of our Halloween tradition is to host an "Open House" type party on Halloween night. We invite our friends and their kids over to Trick or Treat in the neighborhood then come back to our house for snacks and drinks to balance out the sugar. We love seeing our friends and families, letting the kids run around together. And I get to bake.
Did I say balance out the sugar? Well...maybe I put out a sweet treat or two (or three) with the veggies and hummus. I checked out FamilyCircle.com and found all sorts of cute recipes including these Spiderweb Cookies.
We tried them out this week for a Play Goup Halloween Party. Skip on over to SuperJenn and check out how they turned out :) If I had more time I would give this Pumpkin Cake a whirl, and these Pumpkin Cupcakes at Parents.com. This Ghostly Pizza from AllYou.com is a no brainer and will be on our table Halloween night.
With parties at preschool, parties for Play Group, trips to the Pumpkin Patch .... I haven't prepared for the actual Trick or Treaters this week! Julie gives a rundown of the sales on candy this week... here are a list of coupons that you can use to make those deals ever.... sweeter!
9/12, 9/26 and 10/17 Smart Source inserts have coupons for Hershey products
10/17 Red Plum has some Nestle and Wonka candy coupons
You can find some printable coupons here:
$2/1 Nestle Butterfinger, Crunch or Wonka Variety Bag
[2]: http://lm.logicalmedia.com/z/12918/CD9787/"><img src="http://lm.logicalmedia.com/42/9787/12918/
[2]: http://lm.logicalmedia.com/z/12918/CD9787/"><img src="http://lm.logicalmedia.com/42/9787/12918/