LJWorld.com weblogs Shop Talk with Jenn and Julie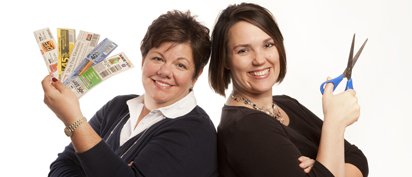 Michael's Sales and Coupons Can Help with Fun Kids' Do It Yourself Gifts
Now the Holiday season is right around the corner. Some of us are winding up our shopping while others of us are just begining. As we get ready for the celebrations of the season at our house, we strive to make sure that our kids recognize the importance of giving as well as receiving. We talk about how good it feels to do something nice for someone else; to put thought into a gift that would make them happy. We also emphasize that the gift does not always need to be something you buy at the store.
My oldest son has been intrigued by art since he could pick up a crayon. It has been very easy to come up with projects he could do that are adorable, useable and thrifty. One of my favorite projects we did for gifts was two years ago when we made Bubble Magnets. These were simple enough that he could be involved in each step. The look on his face when he presented them to his family members was priceless. He was so proud. You can see more details about how we made these HERE.

If you look in today's ads you will find that scrapbook paper like we used for this project is on sale $1/4. There is also a 40% off Regular Priced Items coupon that would work well for the glass bubble marbles or the Modge Podge, making this a very inexpensive project.
I also feel like I need to accomplish lots of my household "to do" items like framing and hanging pictures when it comes to the Holiday season. Maybe it has something to do with decorating and making the house beautiful with candles and lights, trees and ribbons. I've had this on my list for a long time and I have new vigor to get it done. Michael's also has a sale on their Home Collection Wall Frames... 40% off and there is an addtional coupon for 25% off ON TOP of the sale price. Included in the sale is the "Hang Your Own Gallery" collection. This is right up my alley as I am NOT of the creative "Do It Yourself" mindset.
I hope you all enjoy these last weeks before the Holidays set in. I think it is important that we all remember at the same time to listen to the things we are teaching our children and heed our own advice.