LJWorld.com weblogs Shop Talk with Jenn and Julie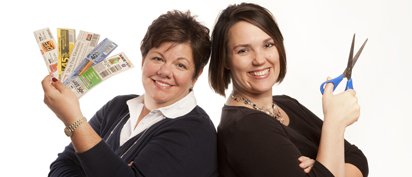 100 Free Note Cards
Right now VistaPrint is offering 100 Post Cards for FREE when you pay the $6.55 shipping and sign up with them. I do not need 100 post cards... but I could use some generic family Thank You notes so I searched through the designs and created this one for our family:
There are so many designs to choose from. I liked this one then added my own text. These will be great to put in packages that I ship to contest winners on SuperJenn, to hand out to my kids' teachers and, and, and...
Don't need any note cards for yourself? What about making some up and giving them as a wedding or shower gift? A monogrammed note card for the new couple would be a nice inclusion to your gift. I'm considering having some made up and saving them to give to my sister for Christmas!
There is an option of ordering matching envelopes when you are ready to checkout, if you order the plain white they are $3.49 for 100. I ordered these so I could also send these Thank You cards to friends and family when we receive gifts.
The "slow" shipping option is $6.55 without envelopes and $7.03 with them.
I routinely tell people that if they are going to sign up for free samples or online coupons, it is best to get an entirely separate email account for these purposes. I would use that email address when signing up for this freebie. VistaPrint is notorious for filling your inbox with offers for their services....almost daily. You can most certainly unsubscribe to the emails when they start showing up.
Click on the banner below to go straight to this free offer at VistaPrint.
Happy Shopping!