LJWorld.com weblogs Shop Talk with Jenn and Julie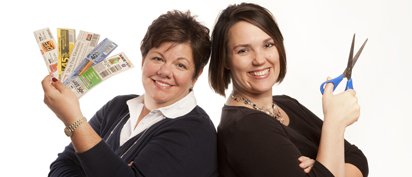 Snow, snow go away, bring some spring right away
It's hard to believe that spring is upon us when I am sitting here watching it snow. I'm looking through the Journal-World ads and seeing all the spring and Easter items and somehow cannot manage to feel the change of season.
As I look through the Kohl's ad and see all the lovely warm weather clothing, it's hard to imagine wearing shorts and sandals, while I'm still bundled in a turtleneck and scarf. But I guess the reality is that March 20 marks the first day of Spring, and while I love my sweaters and scarves, it's time to start putting those items away and let spring fever take over.
Kohl's is having a three-day Easter sale March 21-March 23. I haven't seen the Lauren Conrad line yet, and it may be a good time to check it out since it's 30%-40% off. Kohl's is advertising 30%-50% off dresses, skirts and pants. Shoes and sandals are also 20%-50% off. I'm starting to feel it . . .
Men's swimwear and shorts listed at 30%-40% off, along with golf shirts and sport shirts. They are also having the men's semi-annual wardrobe sale – shirts, separates, sport coats at 40% off.
The Easter and spring table linens and decorative items are definitely helping me get in the spirit. (Reminder: Just don't look out the window at the snow; stay focused on spring.)
And don't forget, charge customers may still have their 15% coupons that came in the mail -- one is good through March 21 and the other is good through March 23.
Also in today's ads is the Payless ShoeSource Easter sale. Great styles at reasonable prices starting at $12.99. Love it!!!
Target has some great spring clothing deals as well. There are three-quarter sleeve cardigans for $14.99 in a wide variety of colors. Check out the skirts and shorts for $14.99 as well; short sleeve shirts for $12.99. Kids clothing also on sale — $4 boys and girls T-shirts, $8-$10 shorts, $5 graphic tees. You get the picture.
I just looked away from my laptop at the large expanse of window in front of me — more snow . . . maybe a bundle of daffodils will help remind me of what's to come . . . and the forecast for the week ahead tells me spring is definitely coming.