LJWorld.com weblogs Shop Talk with Jenn and Julie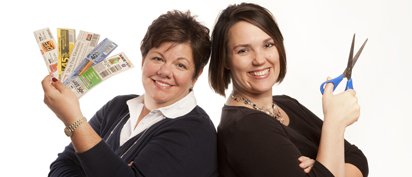 Oh Baby! What a Week!
Oh, I couldn't help myself with that one! This week's deals are all about the little ones.
If you noticed I posted on Wednesday with this week's Dillon's and HyVee deals. I'm going to attempt to do that each week so that Sunday's post isn't so overwhelming....focus a little bit on grocery deals here but mainly on other deals that can be had!
If you are interested in learning more about how I make coupons and stock piling work to feed my family a healthy, balanced diet feel free to check out my Weekly Menus at SuperJenn.
There are a TON of diaper deals to be had in the coming weeks. In order to take FULL advantage of them you will want to print the following coupons, remember you can print each one of them twice per computer:
$3/1 Any Huggies (Manufacturer's Coupon)
$3/1 Huggies Little Movers (Manufacturer's Coupons) when you become a Fan of Huggies on Facebook
$3/1 Huggies Little Movers Coupon
$1.50/1 Huggies Target Printable
If these campaigns run out before you get your prints have no fear! There are several different Huggies coupons coming out in today's Smart Source! Among them are $1.50/1 ANY and $2/1 Little Snugglers or Little Movers.
Walgreens Huggies Deal:
Buy 3 Huggies Diapers: $8.99 ea. Use 3 $3.00/1 Huggies Printable Coupons Use $1.00 Walgreens Huggies Coupon from the Walgreens Children's Activity Book* (this coupon will take off $1.00 for each package, so $3.00 total). Receive $5.00 RR (Limit 1) Final Price: $3.32 ea.
*The Walgreen's Children's Activity Book is a coloring book that comes out periodically, generally priced around $0.99 and usually has some good Walgreen's coupons that can be stacked with Manufacturer's coupons.
CVS Huggies Deal: *These prices will be valid next week beginning March 28, 2010 but you will want to print your coupons now before the print campaigns expire!
Buy 2 Huggies Diapers: $8.99 ea. Use 2 $3.00 Huggies Printable Coupons Receive $5.00 ECB's (Limit 1) Final Price: $3.49 ea.
*Unlike the Walgreen's deal, you can only do this once and receive the ECB. However, you CAN take the $5 ECB and use it to buy more Huggies diapers, which you cannot do with the RR at Walgreen's if you intend to earn more RR.
Target Huggies Deal
I'm not sure about the exact price on the Huggies at Target, I think they are right around $8.99. If you know the exact price please leave a comment below and let us know!
Buy 1 at $8.99
Use $3/1 Printable
Stack with $1.50/1 Target Printable
FP = $4.49/pack
While this isn't quite as good of a deal as CVS and Walgreen's you can do this as many times as you have coupons and you have an exact FP...no RR or ECB to deal with.
What if you aren't a Huggies fan (like me?) and prefer Pampers (when I'm using disposable diapers)...don't feel left out there is a CVS Pampers Deal this week!
CVS Pampers Deal:
*The ad shows Easy Ups and Cruisers but the wording says "Diapers or Easy Ups so I'm not sure if Swaddlers are included
Buy 1 pkg at $8.97
Use 1 $2/1 Pampers Cruiser, Swaddlers or Extra Protection from 3-7 RedPlum
Get $3ECB
FP = $3.97/1 pkg
*There are several other Pampers coupons in the 3-7 Red Plum and the 2-7 P&G
*There is a Limit of 2 of this offer but you can roll the ECB from each to get the FP a total of 4 times.
If you are a fan of cloth diapers don't be discouraged! There are often many deals on the internet that can be found to help reduce the price of the soft and cuddly cloth buns! Just this week bTrendie had a deal on Bummis where you could get a package of 3 for just over $20! bTrendie is an invite only shopping site that features boutique items for a small period of time. You can read about it HERE and get a link for your very own invitation and a $10 shopping bonus to use on your first purchase! I often feature deals like this at SuperJenn throughout the week as they come up.
I also find myself at the tail end...AND the start of growth spurts. I have some hand me downs... but I am finding myself in the need of buying the kiddos some new clothes for a new season. Here are a few deals to help lighten the load!
Old Navy has a 30% off a single item printable coupon available. This coupon is good until April 4, 2010.
Target has a Printable Coupon for $5/$30 Circo and Cherokee Kids Clothing. This goes well with the sales you will find in this week's flier. There is also a Printable Coupon for $1/1 Gerber Baby Apparel/Bedding.
And finally....if you have kids that suffer from allergies (My oldest is allergic to cats...and about anything in the air when the seasons change) you should definitely give the Children's Benedryl Perfect Measure a try. These are great to carry around in your diaper bag...without getting a huge mess. These and other Children's benedryl products are on sale for $4.99...but you can get them for FREE!
Buy 2 Children's Benadryl Allergy Products: $4.99 ea. Use 2 $1.50 Benadryl Allergy Printable Coupons Use $1.00 Walgreens Children's Benadryl Coupon in the Walgreens Children's Activity Book(will deduct $2.00 because you are purchasing 2) Receive $5.00 RR (Limit 1) Final Price: BOTH FREE!!