LJWorld.com weblogs Shop Talk with Jenn and Julie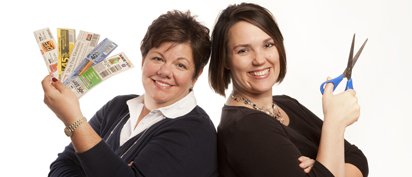 $10/$10 at JCPenney
Right now at JCPenney.com you can get get $10 off a purchase of $10 or more by entering the code DADROCKS at checkout. If you search around you can find something that is right at or just over $10, especially if you look in clearance. I can always find something for the kids there, one time I bought a runner for our dining room table.
You still have to pay $5.95 shipping buy if you shop through Ebates and you are a new customer you will get it all for next to nothing. Here's how:
Search "JCPenney" in the search bar on the left.
You will be redirected to the JCPenney site. Find what you want and at checkout enter the code: DADROCKS.
For shopping with eBates you will get 3% cash back PLUS if you are a new customer you will get an automatic $5 bonus put into your account (This just about covers the cost of the shipping)
eBates is a great way to shop online for any store because you build up actual cash in your account that will be returned to you. It varies from store to store and sometimes there are higher rates around the holidays. Not all stores participate but its worth checking to see before you buy!
loading...
Blog: A harmonica, an umbrella, a cocktail multitool: downtown Lawrence's new gift shop has it all

April 26, 2018 · 1 comment

Sheriff's office offering free Drug Take Back Day event Saturday

April 25, 2018 · 3 comments

After stepping down, former KU Chancellor Bernadette Gray-Little still receiving more than $500,000 per year salary in 'special advisor' role

April 25, 2018 · 40 comments

Opinion: Shania Twain's offensive claim

April 26, 2018 · 9 comments

Board recommends converting 2 Lawrence streets into bicycle boulevards

April 26, 2018 · 6 comments

Letter to the editor: Support our officials

April 25, 2018 · 18 comments

A look at what is included in the proposed Douglas County Jail expansion

April 24, 2018 · 15 comments

At forum, Douglas County commissioner explains 'what if' option if sales tax referendum fails

April 22, 2018 · 38 comments

Hundreds of Lawrence students gather in South Park for National School Walkout rally

April 20, 2018 · 41 comments