LJWorld.com weblogs Shop Talk with Jenn and Julie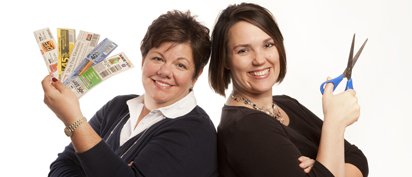 10% off Home Depot, Huggies Half Price, Salad Coupons and More
Welcome back for some great Sunday Deals! I've been slow to post deals through this week...and I will be completely off the radar next week because my husband and I are going out of town to celebrate our 5th Wedding Anniversary. It takes a LOT more work than I anticipated getting 5 people ready to be gone that long! If you emailed me deals this week and I wasn't able to get them up, please accept my apologies...I promise to be on the ball when I return!
There was a lot of controversy last week regarding my posts, I generally don't care to address people who are here to make trouble, but I did take a minute on SuperJenn to address the issue of plagiarism, or splogging. If this is something that you are interested in reading please feel free to leave comments there in regards to that issue.

While we are making our lists and getting everything ready for our trip, on the top of my list is to update my music library on my iPod. Through an email from a friend I discovered that at Amazon you can get 100 Downloads for $5 Each
. There are so many to pick from you are bound to find some you like. I'm using some of my $5 Amazon gift cards I've earned from SwagBucks to pay for them.
Here you can get a $2/1 printable coupon for the new Gatorade GSeries Pro.
If you don't grow your own lettuce, you might like this coupon for $1/1 Dole Salad Kits. If you watch closely you can often find these discounted or on "Manager's Special". If you plan to use them right away this can make a great deal.
The newest round of coupons from the Home Depot Garden Club came out and there was a B1G1 coupon for Perennials in my mailbox this time around. I'v also heard of people getting a $5/1 RoundUp product. Other months we've gotten B1G1 Rose Bushes, B1G1 Trees... they are keeping up with their promise of decent coupons. If you haven't signed up with Home Depot Garden Club you can do that HERE.
Another Home Depot service is the Mover's Club. You can sign up here to get customized checklists, projects and tips for your move...and a 10% off an in-store purchase coupon. Sign Up Here.
Through Tuesday at HyVee you can get whole chickens for $0.88/lb, I love to stock up on whole chickens when I get the chance, they are great to have around whether you are boiling one to use in a recipe (and storing the stock!) or cooking a whole chicken for dinner (my favorite recipe is this one for Sticky Chicken).
If you buy 4 Kellogg's cereals at HyVee for their sale price 2/$5 you will get a free gallon of milk. Use 2 $1/2 Kellogg's Printables and for $8 you can have 4 boxes of cereal and a gallon of milk.
HyVee also has Blue Bunny Bomb Pops on sale for $2/box. I have a friend who keeps these on hand and hands them out to her kids when the ice cream truck comes through the neighborhood. Instead of getting an overpriced and sometimes questionable treat from a truck, they still get a treat and she has saved some money.
Dillons has Colgate Toothpaste, Colgate Toothbrushes and Oral B toothbrushes on sale for $1/ea. There are Colgate $1/1 and $0.75/1 coupons in the 6-06 and 6-13 Smart Source as well as the June issue of All You Magazine. These would go nicely with the free toothbrushes you picked up last week at Walgreen's. I'm guessing you can find somewhere around town to donate free toothpaste... people down on their luck like fresh breath and clean teeth, too.
Checkers has red seedless grapes for $0.78/lb. I'd hurry though, last time I went to get some when they had a great sale price they were completely out and I was told they didn't know if they'd get more before the sale ended.
More Huggies Deals to be had at CVS this week: The Snug and Dry or Little Movers Big Box is $19.99 with $10 ECB. That brings your price down to $9.99 ...half price. You can get a $3/1 Printable HERE to bring your price down to $6.99 for a Big Box (56-96ct). That is a great price on diapers.
Make sure to leave a comment here or on our Facebook Page and tell us what great deals you've found this week around town!