LJWorld.com weblogs Shop Talk with Jenn and Julie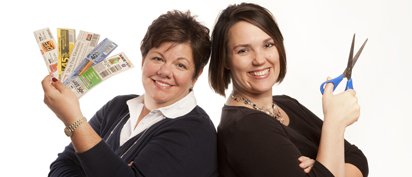 $0.30 Milk, Free Toothbrushes Produce Coupons and More
Sunday is upon us and its time to round up some deals...I've got both free stuff and cheap stuff to make your shopping week interesting:
There is an unadvertised deal on Smart Balance milk at Dillons: Buy any Smart Balance Spread, Milk or Peanut Butter and receive a Catalina at checkout for one free carton (1/2 gallon) of Smart Balance Milk up to $3.99.

This is a great coupon to "roll" for free milk as many times as you can. It works like this:
Buy any spread, peanut butter or milk.
I bought spread at $2.15.
Upon scanning it at the register, the catalina printed for the free milk.
I did not have any coupons for the spread, but I do know there are some coupons out there for both the spread and the milk, which would have made this an even better deal.
On your next transaction (be it that day or another) use your coupon to get your 1/2 gallon of Smart Balance milk. At Dillons on 6th & Wakarusa the price is $4.29. You will be charged the additional $0.30 the coupon does not cover.
The bonus? When you get that $0.30 milk, another Catalina will print for you...for another "free" milk!
I am trying to find out the dates on this deal, if I can talk to someone at Kroger next week during business hours I'll be sure to update and let you know.
Dillons also has some B1G1 Gillette Body Wash. A reader emailed me earlier this week to ask for some clarification on Dillons "B1G1" policy. Unlike most stores, when Dillons runs a B1G1 sale they state very clearly that "Items will ring up at half price". This has its benefits and its drawbacks: It means you don't have to buy 2 to get the sale. You can buy 1 item and still get it at half the price; however if you have a B1G1 coupon like the one in last week's P&G, you won't get both for free as you would at, say, CVS.

So, here is the deal on Gillette Body Wash:
Buy 2 @ $2.25 each (normally priced at $4.50/ea)
Use B1G1 from P&G = FP 2/$2.25
If you can round up another coupon you may use it on the 2nd item. I have received a lot of $1.50/1 Gillette Body Wash Catalinas lately. Using one of those would bring your FP to $0.75/2
Free toothbrushes can't be a bad thing, right? Don't need any? How about picking some up and passing them on to one of our great local non-profits?
Reach Total Care Toothbrushes at Walgreen's this week are $4.49/ea. There are two scenarios:
Buy 2
Use B1G1 from Red Plum 12/6, 1/3 or 5/16 Use $3/1 In Ad Coupon (Will deduct $6) FP = Free + Overage
Don't have the older Red Plum coupons? Try this: Buy 2 Use this $2/2 Printable Coupon Use the $3/1 In Ad Coupon (Will deduct $6) FP = $1
Nivea for Men Body Wash $5.99 Get $5.99 RR Use $3/1 Coupon from Red Plum (5/2) FP = Free +$3 overage
Hint: Use your coupons in the order I have listed to avoid the dreaded register "beep" and not accept your valid coupons
Idea: Purchase your Reach Toothbrushes and Nivea bodywash together. The $2 overage on the toothbrushes will cover the majority of the OOP (out of pocket) expense. You will get 2 toothbrushes and 1 body wash for $0.99 + tax OOP and you will get $5.99 in RR.
You can print a $0.75/1 coupon from Earthbound Organic Farms for Baby Spinach by signing up on their website. Produce coupons are few and far between so I'll be sure to highlight them when they come along.
Sears has a promotion on Men's Clothing right now: Spend $50 get $50 in "Come Back Cash". This is a Mail-In-Rebate. You have to spend your $50 before 6/20 and mail the rebate in by 7/20. The $50 "Come Back Cash" will also have to be spent on Men's clothing. You can see the details in today's insert.
Michael's has the coveted "50% off ONE item" coupon in today's insert. Not just a one day sale, this coupon is good all week this week. Valid on regular priced items, it is often hard to find what you want NOT on sale when these coupons come out. I've had my eye on several Wilton pieces and it looks like these might actually NOT be on sale this week.
You can get a free purple apron from Cooking Light Magazine when you purchase two items from this list: Eggland's Best, International Delights CoffeeHouse Inspirations Skinny, McCormick Recipe Inspirations, Pepperidge Farms Frozen Breads, or Sargento Reduced Sodium Cheeses. You can send the original cash register receipts along with proof of purchase in with a postcard with your name, address and zip. You'll get the apron PLUS $25 in coupons. Visit the site to read all of the information.
The Crocs dealI posted yesterday is still good today. 14 different styles of Crocs are all on sale for nearly to more than 1/2 off! Check it out if you need shoes for anyone in the family.
What deals did you find this week? Share with us here or on our Facebook Page!
Blog: Accused thief back in jail, less than two weeks after being freed by jury

November 22, 2017 · 3 comments

Award given to Charlie Rose at KU might be rescinded following sexual misconduct allegations

November 21, 2017 · 9 comments

Lawrence City Commission to consider banning people from openly carrying guns in city buildings

November 20, 2017 · 34 comments

Opinion: If he wins, he should be expelled

November 20, 2017 · 26 comments

Editorial: Open-carry ban is right move

November 21, 2017 · 13 comments

Letter to the editor: Guns among us

November 17, 2017 · 87 comments

Kansas open to moderates after Brownback era? Many still see 'ultra-conservative' Kobach as front-runner for governor

November 20, 2017 · 28 comments

Editorial: Rescind Rose's award

November 22, 2017 · 1 comment

Opinion: Costas paints clear picture of crisis

November 22, 2017 · 3 comments

Opinion: The tactics of a child president

November 19, 2017 · 12 comments