LJWorld.com weblogs Shop Talk with Jenn and Julie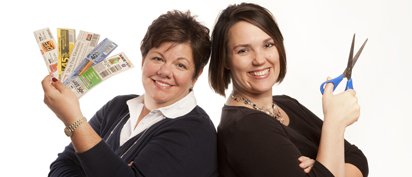 Back to School?!
Back to School? My oldest will be going to preschool this year and I'm giddy to have a list of "school supplies" to buy for him. It's like a rite of passage as a mom. Ask me again when all three are in school I'm sure I'll change my tune! It seems like the minute we hit July, however, the "end of the school year" sales went away and slipped right into "Back to School" sales. I'm seeing this all over the ads. This is one of the "hottest" times of the year for coupons and deals...but I wouldn't get too crazed about the deals just yet. I am betting that you will see better and better deals arise as we get closer to the actual start dates. I think August will be a crazy month.... I'm counting on it...my cereal stockpile is running low and I've got a pencil box and some crayons to buy.
In the meantime:
Another photo deal for you from See Here: 25 Free 4x8 Photo Cards with Promo Code 'cards-36'. You can use as many pictures and as much text as you want to without any additional charges. You will be charged for shipping. This offer runs today (July 11) through Saturday July 17.
And here are a few grocery sales that I found interesting:
I've been checking the Checkers online ad and it seems they've gone back to their old format...one page of limited sales. I did see that they have a great price on Mangos .. $0.38/each. I'm going to be over that way today so I'll be stopping in to get some.
I also haven't seen the Aldi ad but it might be worth a stop in if you are on that side of town. Last Sunday I picked up 3 pints of blueberries for $0.99/ea and we are STILL using them and they have held up beautifully. We also picked up grape tomatoes, cantaloupe and strawberries, all for $0.99/ea. I'm interested to see what we could find this week.
Hy Vee has Old Orchard 64 oz Apple Juice $1.18. Print a $0.50/1 coupon HERE and HERE.
Final Price = $0.68/ea
You will also find Boca products here on sale for $2.59. Boca and Quorn are my favorite meatless products and this is a decent price. These don't often go on deep discount or present coupons.
Dillons has Advanced Brands Fast Fixin' Chicken Nuggets 10/$10 this week. Sign up with Advanced Brands and you will get two $1/1 coupons making these free. If you subscribe to All You Magazine and you still have the March issue around somewhere, there were $1/1 coupons there as well. There are only 2-3 servings in these packages but if I'm going to feed my kids chicken nuggets I've purchased at the store, these are the ones I pick...and free has always been a good price for me.
Barilla pasta is also on sale 10/$10. You can find a $1/2 printable coupon on the Barilla website. My friend Jaycie sent over THIS LINK and says to click on the word "coupon" in the top paragraph. This coupon is for the whole wheat pasta if it is included in the sale. Final Price = $0.50/each.
This week there is a coupon for a $25 gift card at HyVee when you transfer a prescription. Remember that Dillons and CVS will both honor competitor's coupons in the pharmacy. CVS will give you an actual gift card, Dillons will load the amount of the coupon directly to your Dillons card. You can use that at your discretion.
There is more and more conversation starting up on the Shop Talk with Jenn and Julie Facebook Page throughout the week. If you find a good deal you want to share...you are particularly proud of your shopping savings or you want to ask questions make sure you "Like" us on Facebook and join the conversation!
If you are looking for other coupons and deals around Lawrence be sure to check out Zip2Save!