LJWorld.com weblogs Shop Talk with Jenn and Julie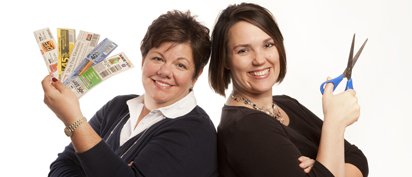 Shopping for the Last Week of February
I was pleasantly surprised to find some coupons this week for items that were already on my shopping list! Very rarely do I use coupons the week they arrive in the circulars. I preach over and over that you need to save the coupons and plan ahead...and know that generally sales will show up AFTER the coupons are distributed.
To see what this week's meal plan looks like in the Kingdom of Hethcoat, you can visit my Weekly Menu Plan at Super Jenn. I've been posting these menus first and foremost as a way to keep myself accountable and keep better track of my spending/time management and secondly to show others how I use coupons to stock pile and turn that into healthy eating for my family. I've begun including my shopping lists as part of this post so others can see what I feel the need to purchase and stock up on each week.
So what coupons struck my interest today?
The RedPlum has a $0.55/1 coupon for Sarah Lee bread, rolls or hamburger buns. Normally these run around $2.50 at Dillon's so with a doubled coupon I will pay around $1.50. If Sarah Lee doesn't do it for you there is a printable coupon for $0.55/1 Earth Grains that will also double to $1/1 at Dillon's.
SmartSource has a $5/1 Ester-C coupon. My family could use a little extra vitamin C right now. Walgreen's has them BOGO ... use 2 of these $5/1 coupons and get them for about $$0.50 each!
There are tons of printable $2/1 TheraFlu coupons right now. They can be found at Coupons.com, RedPlum.com, CoolSavings and SmartSource.com. This week at Walgreen's when you buy 2/$10 you get a $5 RR. Buy 2 and use 2 $2/1 coupon and get them each for $0.50 after RR and coupons.
There was a $1/1 Goody Ouchless Hair Elastics coupon in the 1/3 RedPlum. At Walgreen's they are $2.99 with a $2 RR. This makes them FREE after RR and coupons. I might use these as a filler for my daughter's Easter Basket.
There is a $25 Gift Card offer at CVS for transferred prescriptions. Don't use CVS? Remember that Dillon's will offer competitor coupons in the Pharmacy.
I'm finding again this week that the deals are a little sparse...we knew this was coming. Lucky for us the online deals are still running strong! I've posted three deals at SuperJenn that I found particularly tempting this week:
$3 for 3 Boxes of Gevalia Coffee and a Free Stainless Steel Travel Mug
$10/$10 Online Purchase at JCPenney
And a Freebie to round out your weekend: Wednesday, February 23 is National Pancake Day! This means everyone gets a FREE SHORTSTACK at IHOP. No coupon necessary!