LJWorld.com weblogs Shop Talk with Jenn and Julie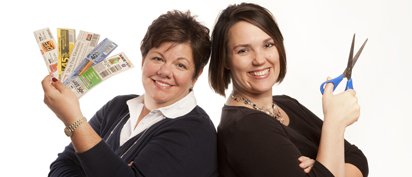 New Twist to Mom's Old Recipe
I don't know why, but lately I've been feeling nostalgic in my cooking. Maybe it's still the craving for comfort foods. I can't explain it.
Maybe I'm missing my mom. We haven't had a visit since July. Whatever the reason, today the Bumble Bee Tuna and No Yolk noodles coupons in the SmartSource insert had me thinking about one of my mom's Lenten dishes. I've mentioned before, when I was growing up, my mom was a very creative cook on a limited budget. While I may not make the same dishes, her cooking has definitely inspired the way I cook today.
Mom never made tuna casserole. An Italian cook would never mix tuna in a creamy sauce. What she did make was a pasta dish with tuna in a light tomato sauce. I recently found a recipe that I feel is an updated version of this dish. Instead of tomato sauce, it calls for sundried tomatoes. Although, she probably would cringe at the cream added in this tuna recipe.
Ingredients
Salt
1 pound fettuccine (I'm substituting with egg noodles)
3 tablespoons extra-virgin olive oil, 3 turns of the pan
4 cloves garlic, finely chopped
1 small onion, chopped
2 (6-ounce) cans Italian tuna in water or oil, drained (I'm using Bumble Bee tuna)
1/2 cup tender sun-dried tomatoes, thinly sliced
1/2 cup dry white wine, a couple of turns of the pan
1/2 cup heavy cream, a couple of turns of the pan
Black pepper
1/2 cup frozen peas, a couple of handfuls
Couple handfuls grated Parmigiano-Reggiano
1 cup fresh basil, about 20 leaves, shredded
Directions
Place pasta water on to boil. Salt water then add pasta and cook to al dente.
While pasta cooks, heat a deep skillet over medium heat with extra-virgin olive oil. Saute garlic and onions until tender, 4 to 5 minutes. Add tuna and sun-dried tomatoes and stir to heat through, another 1 to 2 minutes. Add wine and cook it down a minute then add cream and season sauce with salt and pepper. Toss hot pasta and peas with sauce and cheese. Serve on dinner plates and top with shredded basil.
What are your favorite Lenten recipes?
Meanwhile, look for the SmartSource and RedPlum coupon inserts in today's Journal-World. Great coupons to be clipped in both.