LJWorld.com weblogs Shop Talk with Jenn and Julie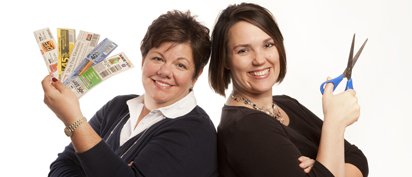 Home Depot Storage Solutions are Worth Shopping after Christmas
Over and over again I say: "Planning ahead is the best way to save yourself money." Picking up an extra fun kids' toy when they are on sale for a great price and adding to it your "Present Stash" so you don't spend MORE money on it later. Stockpiling your groceries; buying more than you need of something when it is a great deal so you won't have to pay full price when you need it down the road.
The idea is redundant.
Which brings me to the day after Christmas. Sales are big...prices, especially on Holiday wares or "Hot" Holiday gifts have been cut drastically. This is the time to buy. Kind of.
It is hard to remember that a deal is only a deal if it is saving you money. To buy something because "it is such a great price and I MIGHT need it down the road..." is defeating the purpose.
I love to catch discounted Christmas decorations, dishes, etc the day after Christmas and then safely tuck them away until I need them next year. This year when I unpacked the Christmas boxes I was overwhelmed with what lay before me. I've mentioned before that we have a small living space for the 5 of us... lots of Christmas decorations is not what we need to bring good cheer.
There is nothing that I NEED for my family. We have more than enough, really and I can find no good reason to head out and shop this weekend. (But if I WAS...the first sale I'd hit up would be the one at Kohl's ;).

What I do need after the fun, yet chaotic Christmas season...is to regain some control; of my house, my finances, etc. Time to buckle down.
The one thing I WILL be purchasing this week are 20 gallon Totes at Home Depot. I'm boxing and tagging a large portion of our house to regain some space and sanity. I've been watching prices and I think the $4.88 price tag is the best I've seen in a while. So instead of shopping, I'll be spending my time... un-shopping the house. Packing away what is extra and freeing up space.
I'll still be watching the sales, planning my strategy for the grocery store...but when I see a "great deal" that I just can't pass up.... I'm going to head down the hall and "un-shop" a shelf in my closet.