LJWorld.com weblogs Shop Talk with Jenn and Julie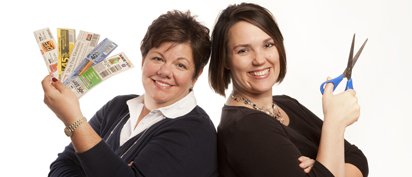 It Really Does Pay to Use Coupons ...
Yesterday was one of my biggest shopping coups to date. It was a BIG trip... with a LOT of planning and it took 3.5 hours at the store! I had a 10% Fall Rewards to spend at Dillon's and knew I wanted to get the most out of it! Baby Ryan is having trouble breastfeeding and the particular formula the doctor has him on is $25 a can!!! ACK! My goal was to get a high enough "reward" to cover the cost of 2 cans of the formula.... I reached my goal!!
The point of me showing you this is not to brag (ok...it is to brag a little...I mean, seriously..I saved $500!)... but to show you what you can accomplish with a little (oh all right, a lot) of planning and dedication. The proper combination of sales and coupons and voila!
A large potion of what I bought were food and supplies for several local charities. I have been slowly shopping to fulfill a challenge I posted on SuperJenn a few months back. I started with $80 and had $57.28 to spend when today began. You can see the original challenge and my progress at SuperJenn. This is the latest installment of my purchase...and I still have money left to spend! The items in this particular batch will go to Ballard Center, Health Care Access and The Shelter.
Quaker Quick Oats B1G1 Free 2/$3.19 after in ad coupon. Use the $1.25/2 from the 8/30 Red Plum insert and get each for $0.97. I don't often find coupons OR sales on Quaker Oats so this is a good deal. This also makes a great filler item if you are using Register Rewards because you are purchasing two items and using one coupon.
Dole Fruit cups are 3/$5 which is better than the sale at HyVee where they are 2/$4, although the selection may not be as good. Use 3 $1/1 Printable coupons in addition to the in ad coupon and get these for just under $1/each.
Trident Layers Gum is on sale for $0.99 with the in ad coupon. Visit Trident.com and get a $0.75/1 coupon. Pair this with the BIGI Free coupon from the 10/18 Smart Source and you will get 2 packs of gum for $0.25.
has Ore Ida Crispy Microwave Fries for approximately $0.88/each. Go HERE and print off a coupon for $1.50/2and get each for appx. $0.13. I didn't make it to WalMart to check this out today so if you find the exact price, be sure to let us know!
Campbell's Chicken Noodle and Tomato Soup 2/$1. Print this $1/2 coupon and get them for FREE. You can print the coupon twice per computer and CVS has a purchase limit of 6. You can also use any of the many Campbell's soup coupons that have been in recent inserts.
3 Day Sale Sunday - Tuesday you can get Snack or Fun Size bags of a variety of candy 2/$4. Buy 4 and use 3 $1/1 coupons from the 10/4 RedPlum and 1 B3G1Free coupon from last week's inserts.
You can also get free or nearly free Reese's at Dillon's...the 8 packs are $1/ea and you can use a $0.55/1 coupon and when it doubles you will get it for free- $0.25.
Follow Shop Talk with Jenn and Julie on Twitter and on Facebook.