LJWorld.com weblogs Shop Talk with Jenn and Julie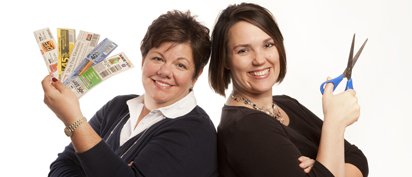 Saving Money With RedBox Rentals
Slashing your family's budget takes a more than just cutting coupons or skipping the fast food and take out. Look a little further into where you spend your money. One area that can add up quickly is renting movies. There are so many options out there that seem like a good deal when it comes to bringing home this entertainment... but are they really?
All over Lawrence you will find RedBox Movie rentals outside of your favorite stores: HyVee, Dillon's, WalMart, McDonald's. RedBox is a DIY movie rental... and the rentals are only $1 per day....unless, of course, you can get them free! You can search for the closest location online.
In yesterday's River City Pulse you will find the weekly ad for Hy-Vee. One of the coupons available is for a FREE movie rental from the Red Box. You will find a code that you can enter to get your free movie. You will still need to swipe your credit or debit card in order to rent the movie (so they can come and get ya' if you don't return it....or just charge you)...but you won't be charged. You can use this code once per credit/debit card you own.
In addition...if you sign up at RedBox you will get an email with another code for a free movie rental.
Still not enough? Every Monday is Free Movie Monday at RedBox! The company puts out a code for a free rental that works until midnight on Monday...and is due back by 9pm on Tuesday.
RedBox releases new movies every Tuesday and is up to date with the latest releases and movie titles. Afraid that the movie you want won't be there when you arrive? Don't want to drive all over town looking for the kiosk that carries the movie you want to see? You can reserve your movie online and schedule to pick it up at the kiosk of your choice!
Be sure to check them out...and then watch as you've saved just a little more money for yourself this month!