LJWorld.com weblogs Shop Talk with Jenn and Julie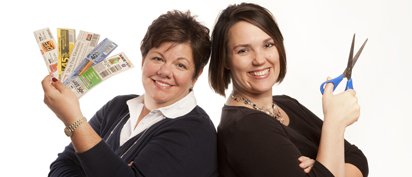 What Saving Money Looks Like at the Dinner Table
All of this talk about coupons...how to use them...where to use them...and still some people don't get it. That's okay. It took me a long time to be convinced that when put into practice, the theory of stockpiling would be beneficial...that coupons would yield me food that I still found fit for my family.
I've shared local deals, I've shared places and ideas to help you find coupons for organic...or less advertised foods. One other question I get asked on a fairly regular basis is this: "What do your menus look like? What do you feed your family?" So here it is....my family's menu for the week:
Sunday: Chicken Enchiladas w/ Homemade Enchilada Sauce Monday: Grilled Turkey and Cheese, Various Soup Tuesday: Tilapia in Mustard Cream Sauce Wednesday: Spicy Black Beans and Rice Thursday: Slow Cooker BBQ Chicken Sandwiches, Home Fries Friday: Pizza w/Homemade Pizza Crust, Veggies, Veggie Crumbles, Cheese Saturday: Penne and Chicken w/Spiced Tomato Sauce (Using Quorn in place of Chicken)
Not too shabby for a chick who uses coupons and stays on a $50/wk budget for her family of five. Some of the tricks I use:
Chicken for the enchiladas was leftover from a Sticky Chicken I cooked for the family last week. Originally I bought the chicken (and like 10 others) on sale at Target for roughly $2/each.
Tilapia I purchased at Aldi's...great fish and for about $1 per serving. I've also purchased fresh Tilapia, Salmon, etc on "clearance" at Target right before its Sell By date..and then freeze it.
All of the sauces I use are homemade....so much more flavor and much less cost...not to mention more nutritional value.
Follow along as we show you how to put the theory of stockpiling and couponing to work for you! It really DOES work...and you can still have a healthy, diverse menu plan for your family. Interested in seeing some of the recipes that I listed? You can view the links on our LJWorld Blog, Shop Talk with Jenn and Julie...or visit my personal site, SuperJenn.com.
A couple of other sites to visit if you are looking for frugal menu planning:
5DollarDinners.com
MomAdvice.com