LJWorld.com weblogs Shop Talk with Jenn and Julie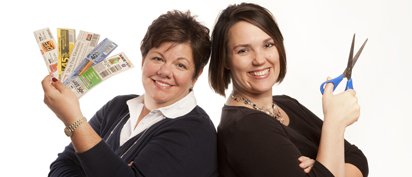 Do you save or splurge on your Thanksgiving meal?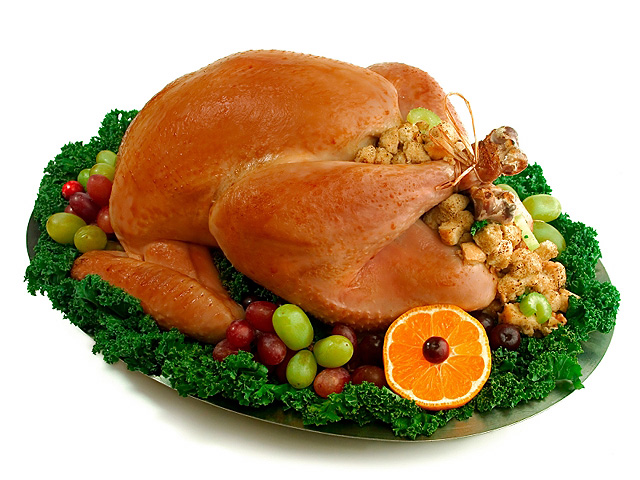 With Thanksgiving approaching, I've noticed all the wonderful holiday food items advertised in today's Journal-World.
One of the deals that caught my eye was the cover on Aldi's ad. It says you can purchase all the trimmings to make your Thanksgiving meal, including the turkey, for under $30. Target is also advertising a "Deluxe Thanksgiving Feast" that serves 8-10 for $59.99. It includes an Archer Farms turkey, mashed potatoes, gravy, stuffing, green bean casserole, rolls, and a 9" pie. But with this meal, all the prep work is done for you.
What do you usually spend on your Thanksgiving meal?
We usually have a small group at our Thanksgiving holiday — my husband and kids, and my in-laws come in from Chicago to join us. When we lived in Chicago, Thanksgiving was always our holiday to host. So those days, we were serving anywhere from 25 to 30 people. We cooked the turkey, stuffing, and mashed potatoes (my husband makes the best mashed potatoes). The rest of the meal was potluck. I loved all the commotion in the kitchen. The moms and grandmas were always full of advice. Then everyone would hover waiting for the turkey to be carved. These memories mean so much to me.
Since moving from Chicago, my husband and I have been able to build our own traditions with our kids. I don't think our Thanksgiving meal has changed since we've been married. Here's our menu: roasted turkey that's been rubbed with herbs and has citrus and garlic in the cavity, homemade mashed potatoes, sweet potatoes with brown sugar, butter and marshmallows, Green Giant frozen corn, sausage and bread stuffing, fresh cranberry sauce, green bean casserole and, of course, gravy.
I've tried variations over the years, but these have always been met with resistance. So now, I don't even try to change much. We eat in the dining room and have to use Grandma Rose's china. My kids make sure that it's the same every year.
Now, when I was growing up, the "Italian" Thanksgiving revolved around the pasta, usually homemade lasagna. The turkey was secondary. Actually, by the time the turkey was served, we were all too full to eat it. So everyone would ooh and aah over the bird, some would save room to taste it, but it was pretty much refrigerated and saved for sandwiches later in the evening. Yes, the second Thanksgiving meal of the day. Because the main meal was served pretty early, everyone looked forward to the sandwiches later – after naps, cards and the family bingo game – Tombola. There was one Tombola rule that never changed – my nonna, being the family elder, was the only one who could call out the bingo numbers. Again, these are memories I will always treasure.
Back to food, and deals, in today's Target ad I notice lots of food items in preparation for the big meal.
10 lb. russet potatoes - $1.99
Fresh asparagus - $1.99/lb.
Stove Top Stuffing, Heinz Gravy, or Betty Crocker potatoes - .79 cents ea. (.35 cent coupon for Betty Crocker potatoes in today's General Foods coupon insert)
Butterball turkey - .88 cents /lb.*
Green Giant fresh green beans (2 lb. bag) - $2.99
Ocean Spray fresh whole cranberries (12 oz.) - $1.99
Sweet potatoes - .59 cents/lb.
Archer Farms spiral-sliced honey ham - $1.69/lb.
Pillsbury Refrigerated Pie Crust - $2 (coupon in today's insert .50 on 2)
Granny Smith apples - .99 cents/lb.
President Brie wheel (8 oz.) - $3.79
8" Pumpkin Pie - $3.99
Reddi Whip - $1.89 (50 cent coupon in today's SmartSource)
DelMonte canned veggies - .45 cents (RedPlum coupon $1/8 fruit, veg, tomatoes)
Campbell's Soup or Swanson Chicken Broth - .49 cents ea.
*Free $15 Target Gift Card when you buy any 10-24 lb. fresh or frozen turkey and the roaster (Rival 10 qt. roaster oven) on the cover of today's ad.
If you go to Butterball you can Save $2 on a Butterball Turkey when you buy any combination of 5 6oz. Stove Top Stuffing Mix or 12oz. Heinz Homestyle Gravy printable coupon.
This week I plan on posting some of my favorite Thanksgiving recipes. I hope that you all will feel free to share the same.
Follow Shop Talk with Jenn and Julie on Twitter and on Facebook.