LJWorld.com weblogs Shop Talk with Jenn and Julie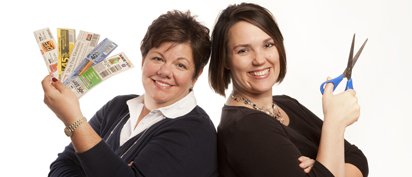 Are You Ready for the Holiday Season? Some Deals to Get You Started
It has only just now occurred to me that Thanksgiving is only two weeks away. I guess we should start deciding where our family will be celebrating this year. Normally I'm all up for the fun and games of preparing a big meal...but I'm going to pull out the "new baby" card again this year and claim exempt.
If you are planning on cooking for your family...and want to do so on a budget...WalMart has a great option available. They are promoting the $20 Thanksgiving Dinner. The $20 Dinner includes:
One 12-pound Grade A turkey
Three 11 to 15.5-ounce cans Green Giant vegetables
Two 14-ounce cans Ocean Spray cranberry sauce
Three 6-ounce boxes of Stove Top stuffing
One 5-pound bag of red potatoes
One 12-count package of Sara Lee dinner rolls
One 22-ounce pumpkin roll cake
There is a limit of 2 on the turkeys ...and this works out to $0.40/lb. You can read the press release
HERE
. You should be able to print it out and take it to WalMart with you and they will honor the pricing. I'm unclear as to whether or not you will be able to use coupons on the included items...making this dinner for eight even cheaper.
Top it all off by printing out this coupon for $2/1 Welch's Sparkling Grape Juice. These are $2.50 at WalMart...so you can score one for $0.50.
Aldi has a similar deal where you can get all of the makings of a Thanksgiving dinner for just under $30. You can view that meal lay out in the Aldi ad found in today's Journal World.
With Thanksgiving I have the idea of decorating for Christmas in the back of my mind...I like to pull out all of the decorations the weekend after Thanksgiving (mind you...that doesn't always mean I'll get them UP that weekend). This year I found a great deal on a Fisher Price Little People Nativity Scene. It is adorable and can be purchased for about half price right now. I blogged about it this week on SuperJenn. You can find the post HERE.
It seems to me that while sales are abundant....true deals are a little sparse this week. I've even seen a few places where the "sale price" is actually higher than the normal everyday price that has been running all year....which makes me plenty disgruntled. Here are a few deals I've found:
Dillon's
General Mills and Quaker cereals are $1.50 when you buy 4. Use any variety of $.50/1 coupons from recent inserts or print them HERE. Doubled this will get you cereal for $0.50.
Philadelphia Cream Cheese $1/ea Buy 3, use $1/3 from recent insert and they are $0.67/ea. You can freeze these for later use.
Bananas are $0.39/lb. Not as good as the Tue/Thurs deal at Checker's where bananas are $0.19/lb ... but if you can't manage to get there for that sale...this is a good second.
You can find Gold Medal Flour on sale at Dillon's for $2.49. Eat Better America has a $0.50/1 printable that would double and bring your price to $1.49...or you could use the coupon at Target where the price is $2 and have the same result. Kroger's brand of flour usually runs for $1.38/bag so if you don't mind plain label...this is the best buy.
Hy Vee
4lb bag of Midwest Country Fare sugar is $0.99. Not bad for sugar...especially with all of the baking that is headed our way for the Holiday Season.
Farmland sliced bacon is $1.88 ...much better than the $3 at Dillon's. I believe there were coupons in a recent insert as well.
I came across a website this week: Gluten Free Choices. If you sign up for their newsletter you can print a coupon for $1/1 of a variety of different products. If you refresh your browser this coupon will print a large number of times which is great since it can be used on such a wide variety of foods. Personally, my daughter and I drink Rice Dream Rice Milk....and this is on the list!! It is less than $2 at WalMart in the non-refrigerated containers which makes it super easy to stock up on....it will be less than $1 per box!!
Target
This week two particular items caught my eye in the ad... both fresh produce:
Asparagus $1.99/lb
Green Beans $2.99/lb
On my family's menu this week is Tilapia in a Mustard Cream Sauce ... which I like to serve with either of these two veggies....they add a nice balance to the meal.
Target is also still offering the chance to pre-order several new release DVDs for $10/ea with free shipping. My favorite in particular is Harry Potter! I'm terribly thrilled to be getting it for this price. I posted a list of the movies HERE. You can visit Target.com to pre-order.