LJWorld.com weblogs Shop Talk with Jenn and Julie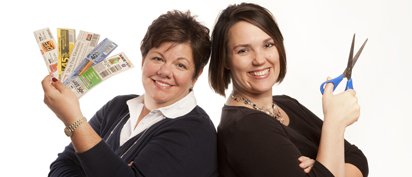 My Favorite Weekly Deals: 11/1 - 11/7
After the shopping extravaganza I experienced last week... I decided I wouldn't do any shopping this week. My normal weekly budget is $50...and since I spent $100 I needed to lay off a little, not to mention I have two sick kids at home who don't need to be sharing their germs with the world. Before my withdrawl gets out of control I'm glad to see some of the deals around this week. This is also a big insert weekend...as its the first of the month you will see all three inserts: P&G, Red Plum and SmartSource. Stock up on this one!
I refuse to pay more than $1 for my cereal. It is absurd. If I could take all of the money I wasted on cereal over the years and put it in a pot...I'd have enough for a very nice vacation. When there are sales like the one at Target this week...I stock up. I've got cereal stashed in a variety of unique places in my house in order to store it all...but its worth it to me to save that money.
A variety of Kellogg's cereals are on sale at Target for $2.66/ea this week. While that isn't such a great deal in of itself... they are also running a Buy 3 Get One Free sale. This reduces the price per box to $1.99 ... still not a fabulous deal. HOWEVER...there are several $1/1 printable Kellogg's coupons available right now. You can find them at Coupons.com and additionally at the Kellogg's website. Each of these coupons is printable twice per computer in your home. You can use 4 $1/1 coupons on your purchase ...bringing the cost down to $0.99 per box of cereal. THIS is the type of deal I'm fond of.
We are big fans of the Nintendo Wii at our house. I run another blog, Wii Mommies, dedicated to virtual fitness with products like the Wii Fit, EASports Active and Personal Trainer: Walking, among others. But I have to say some of my favorite time on the Wii is spent racing my husband and my son at Mario Kart. This week both Target and Toys R Us are having sales on games for the Nintendo Wii .... it would be a good time to buy some games for Christmas gifts... especially if you combine the deals:
Target has Buy 2 Get 1 Free on the games $49.99 and under for Nintendo Wii. Toys R Us has Buy 1 Get 1 Half off for the same. While I'm not certain this will work...I'm going to give it a try:
-Buy 6 games at $49.99 = $300
2 Games Free (Target Sale) = $200

2 Games at 1/2 price with Price Matching (TRU sale) = $150
You are then purchasing 6 games at $25 each instead of $50.
Not that I'm going to purchase 6 games for my family and spend $150... I have a couple of friends that I will go in with to make this deal work to our advantage.
Another great gift idea for Christmas is the Leap Frog Tag Reader. Originally I wasn't thrilled with the idea of a toy that reads to my kid... I can do that myself! Turns out the Tag Reader is much more than that..and my kids both love it. The Tag Reader is priced at $40 at Target. There is a $10/1 printable coupon that will help with that price....there is also a Target Toy Coupon Book out in the world (I haven't been able to get my hands on it yet) that contains a Target $10/1 coupon for Tag...reducing the price to $20. The Tag books are on sale at TRU this week for $9.99 ... price matching these at Target, where they are normally priced at nearly $14, and using this $3/1 printable coupon will net you these books for $6.99 each... around half price.
Dillon's has another mega event going on ... buy any 10 participating items and get $5 off ($0.50 per item) automatically when you check out. Assuming you buy 10 participating items and get the discount here are some of the better deals:
Hormel Chili - $0.79 - buy 3 and use the $2/3 coupon from the 10/18 Smart Source and you will net them for $0.13 each.
DelMonte Tomatoes - $0.49 - Buy 5 and use $1/5 from 9/20 RedPlum and the price is reduced to $0.29/each
I Can't Believe Its Not Butter - $1.17 - Buy 2, use $1/2 from 9/13 insert and you get each for $0.67.
Halls Cough Drops - $0.50 - $0.35/1 (doubles to $0.70/1) from 9/27 Smart Source and this is FREE + $0.15 overage
Ricola Cough Drops - $0.50 - B1G1 from 10/11 Smart Source lowers the price to $0.25/bag.
Colgate Toothpaste - $1.00 -There are any variety of coupons from recent inserts that will make this a free item.
BumbleBee Tuna - $0.49 - $0.55/1 from 9/13 Smart Source (doubles to $1/1) - Free + $0.50 overage OR 2 Free with one coupon
Nestle Toll House Morsels - $1.99 - Use $0.50/1 in today's Red Plum (Doubles to $1/1) - $0.99. This price is worth stocking up and throwing some in the freezer...Holiday baking is just around the corner...
There are many other great deals ... be sure to check them out as you shop through the store.
If you missed the sale on Campbell's Chicken Noodle and Tomato Soup at CVS last week, you have another chance to get them free using your $1/2 printable, they are $0.50 each at Walgreen's this week.
As the Holidays approach you will find more and more deals ... Julie and I will do our best to keep you informed...you can help us out by reporting your fab finds here as well!! Thanks for reading and sharing!
Follow Shop Talk with Jenn and Julie on Twitter and on Facebook.