LJWorld.com weblogs Shop Talk with Jenn and Julie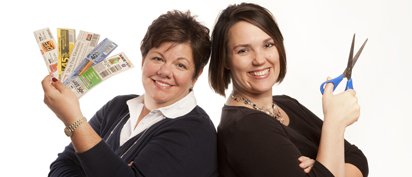 Announcing The Great Holiday Rebate Contest Winner - Week 1
We are happy to announce Beth Cordova of Lawrence as the winner in week 1 of The Great Holiday Rebate Contest.
The correct answers from Sunday's entry are as follows:
Welcome to week one of "The Great Holiday Rebate". For the next 3 weeks, you will need to find the correct answer to each (1. clue ) to fill in the blanks. We hope you will (2. all) join in the fun.
Lucky winners will receive a (3. hefty) (4. bounty). So share in some holiday (5. cheer) and play each week for more chances to win.
And so our story begins . . .
It is the busiest shopping season of the year. Together, Jenn and Julie set out to find the best deals around. Some may call us double (6. trouble) as we don't give up until we find the lowest price.
Each week we (7. scramble) through the ads to highlight the best prices. Where will the sales take us?

Check back in on Sunday for the next installment to our contest story and another chance to win a $50 Downtown Lawrence gift certificate.
Again, congratulations, Beth!