LJWorld.com weblogs Shop Talk with Jenn and Julie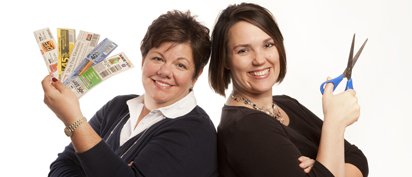 A Little DIY Holiday Cheer
Just so we don't completely get caught up in the BUYING this season...remember that one of the most frugal ways to spread Holiday Cheer is to make some of your own gifts. A little bit of effort and creativity can go a long way...especially when you are dealing with kids.
This year my two oldest kids and my 3yo nephew will be getting a DIY gift from us that is sure to give them hours of entertainment...and cost us very little. Recently my husband bought a very small screwdriver for our son so that he could 'help" when they were working on projects together. Brendan proceeded to spend the next week very systematically dismantling our house one screw at a time. When we explained to him that he couldn't just take screws out of things he said "What CAN I unscrew, Mommy?"
That led us to this fabulous idea: Each kid will receive a small screwdriver of their own and piece of pressed board...appx 2ft long filled with "attachments" that can be screwed and unscrewed. My husband had great fun walking through the hardware store looking for light switch plates, hinges and anything else small he could find and attach to this project board. Now each of the kids can "fix" to their little hearts' content.
The total cost of each of these gifts is around $8. The real life aspect makes it much more attractive to the kids than a plastic workbench that some company would charge us $80 for!
So I want to know...what is/was your all time favorite DIY Christmas gift? Something you made? Something you received? Share your favorite ideas with us!
Follow Shop Talk with Jenn and Julie on Twitter and on Facebook.