LJWorld.com weblogs Scene Stealers

Hollywood Clip Joint 7/31/08
Today is the last day you can enter to [win an autographed poster][1] from what could be the biggest-grossing movie of all time soon, "The Dark Knight."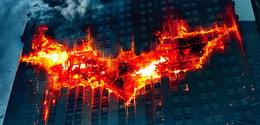 According to imdb.com, "The Dark Knight" is now "taking aim" at the U.S. box office champion of all time, James Cameron's "Titanic." so far, "The Dark Knight" has taken in a whopping $313 million following last weekend's record breaking best-second-week performance ever of $75.2 million. "Titanic" is way ahead of everybody else at $600.8 million. "The Dark Knight" director, former indie golden boy Christopher Nolan has told reporters in Tokyo that he has no idea why his Batman movie is doing so well. "I would not be able to point to exactly what it is. If I knew that, all my films would have been successful."Speaking of indie golden boys, Darren Aronofsky's "The Wrestler" is among the 21 movies that will compete for the prestigious Golden Lion award at the 65th annual Venice Film Festival, scheduled to run from Aug. 27 to Sept. 6. "The Wrestler" stars Mickey Rourke, Marisa Tomei and Evan Rachel Wood, and is the followup to Aronofsky's ambitious dream project, "The Fountain." About a retired wrestler on the independent wrestling circuit, it sounds just about light years from anything eles e the director has done ("Pi," "Requiem for a Dream"), but not likely commercial-comeback fare. I'm intruiged.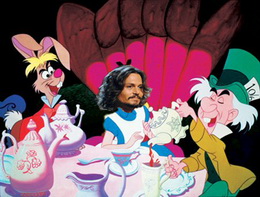 CelebEdge says that Johnny Depp may be re-teaming with Tim Burton to play The Mad Hatter in Burton's upcoming CGI/live-action adaptation of Lewis Carroll's "Alice in Wonderland." At one point some reports were claiming that Depp was actually going to play Alice, since the movie is will be using performance capture, but that didn't end up being true. You know, this sounds like a perfect fit for Burton/Depp, but then again so did "Charlie and the Chocolate Factory." Is it just me, or does Burton just need to do an original script and quit "re-imagining" things ("Planet of the Apes") and adapting other works ("Sweeney Todd")? By the way, this version of "Alice" was penned by Linda Woolverton, the writer of Disney's "Beauty and the Beast," "The Lion King," and "Mulan."Guillermo del Toro is producing (but is probably busy directing "The Hobbit") a new horror movie with--surprise--creatures! The source material is pretty odd, though, it's a remake of the TV movie "Don't Be Afraid of the Dark," says The Hollywood Reporter. " Comic book artist-writer Troy Nixey will make his feature directorial debut with the adaptation of this cult classic, which aired on ABC in 1973. Del Toro is adapting the original teleplay with Matthew Robbins, his writing partner on the 1997 horror film "Mimic." (Let's hope the story is better than "monster on the subway"). The story is about a young girl, sent to live with her father and his new girlfriend, who discovers "sinister" creatures that live underneath the stairs. After "Hellboy II," del Toro has proven that his VFX and design are impeccable, but I'd like to see his writing get back to the level it was at for "Pan's Labyrinth."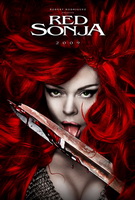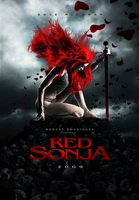 Dude, I totally bought these comics in junior high. From RottenTomatoes: When Robert Rodriguez and Rose McGowan abandoned plans to remake Jane Fonda's trippy '60s space movie "Barbarella," they just turned their attentions to another redhead vixen: "Red Sonja." While 1985's film adaptation starring Brigitte Nielsen (scary to think of now) bombed, the 2009 version to be produced by Rodriguez (but not direced-- it's some joker who directed one of those "Highlander" movies) with McGowan in the title role is shaping up to be much closer to the Red Sonja seen in comics, more specifically as published in the past several years by Dynamite Entertainment. The posters are pretty hot, but it's still Conan the Barbarian in a chain-mail bikini. Wait. That's exactly why I bought the comics all those years ago...Also from The Hollywood Reporter:"With Heath Ledger's villainous Joker drawing attention and boxoffice dollars, Sony is moving forward with "Venom," a potential "Spider-Man" spinoff based on a bad guy. The studio is developing the project, based on the gooey nemesis who appeared in "Spider-Man 3" and is hoping the character could serve as an antidote to the aging "Spider-Man" franchise in the way that Fox has used Wolverine to add longevity to its "X-Men" franchise." [1]: http://www.scene-stealers.com/giveaways/autographed-dark-knight-poster-giveaway/
loading...
Blog: Update on student apartment project that plans to locate next to day care center

September 18, 2017 · 3 comments

Letter to the editor: Health care for all

September 17, 2017 · 17 comments

Discriminatory text messages spur student sit-in over LGBT rights at Lawrence High

September 18, 2017 · 91 comments

Estimated cost to expand Douglas County Jail jumps by millions of dollars

September 20, 2017 · 11 comments

Students who violated LHS policies in derogatory messages will be 'held accountable' — how, exactly, remains unclear

September 20, 2017 · 21 comments

LHS transgender students face backlash after protest, say 'this isn't the end' for their advocacy

September 19, 2017 · 50 comments

State workers at site of shooting had guards, security until Kansas' privatization push

September 21, 2017 · 4 comments

Opinion: What happened? America's political axis tilted

September 20, 2017 · 15 comments

Tyson puts chicken plant on hold, citing commission's withdrawal of bond support

September 19, 2017 · 21 comments

Multimillion-dollar plant at Lawrence landfill gives old trash a new purpose

September 20, 2017 · 8 comments