LJWorld.com weblogs Scene Stealers

Oscar Winners & Partygoers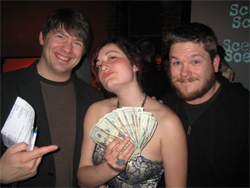 Wow, what a crazy night. There were a lot of upsetsstarting with three "Bourne Ultimatum" wins, and continuing through to "Taxi From the Darkside" beating "Sicko" and Marion Cotillard and Tilda Swinton. The Scene-Stealers Oscar Party was fantastic; thanks to everybody who helped out, and congratulations to Betsy Hatch, who picked most of those upsets and cleaned up, winning all the cash last night! We should have the online ballots tallied some time tomorrow. There are a crap-ton to go through, so the competition will be very stiff for the Netflix subscription!
Huge thanks go out from J.D. and myself to Dustin Schirer, Ryan Dambro, Nick Colby, John Davis, Megan Dambro, Josh Longbottom, Phil Plante, and Dana Collins for putting in a lot of time and effort to make a big event like this happen. You are amazing, and we couldn't have done it without you.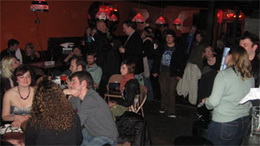 Okay, so "Juno" didn't win Best Picture like I predicted. That's good, I didn't really want it to win, I just thought I'd call an upset so that if it actually did happen, I could say I called it. Instead, I'm a satisfied and happy movie fan who loves the fact that dark, strange movies like "No Country for Old Men" and "There Will Be Blood" took home as many as they did.Joel and Ethan Coen's meditative thriller
No Country for Old Men
won Best Picture and three other statues at the 80th annual Academy Awards on Sunday night.
There Will Be Blood
, which, like
No Country for Old Men
entered the evening with eight nominations apiece, picked up two awards. Here is the complete list of winners: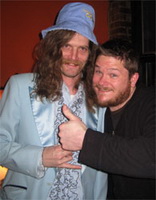 No Country for Old Men
, Best PictureJoel Coen and Ethan Coen,
No Country for Old Men
, DirectorDaniel Day-Lewis,
There Will Be Blood
, Actor in a Leading RoleDiablo Cody,
Juno
, Original Screenplay_Taxi to the Dark Side_, Documentary Feature_Freeheld_, Documentary Short_Atonement_, Original Score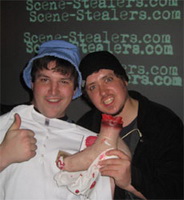 There Will Be Blood
, Cinematography"Falling Slowly" from
Once
, Original Song_The Counterfeiters,
Foreign-Language Film_The Bourne Ultimatum,
Film EditingMarion Cotillard_, La Vie En Rose,_ Actress in a Leading Role_The Bourne Ultimatum,_ Sound Mixing_The Bourne Ultimatum,_ Sound EditingJoel Coen and Ethan Coen_, No Country for Old Men,_ Adapted Screenplay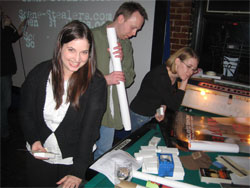 Tilda Swinton_, Michael Clayton,_ Supporting Actress_Peter & the Wolf,_ Animated Short_Le Mozart des Pickpockets,_ Live-Action ShortJavier Bardem_, No Country for Old Men,_ Supporting Actor_Sweeney Todd,_ Art Direction_The Golden Compass,_ Visual Effects_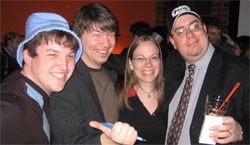 Ratatouille,_ Animated Feature_La Vie en Rose,
Makeup_Elizabeth: The Golden Age,
CostumesRobert Boyle, honorary OscarNick Colby, all-around kick ass bald dude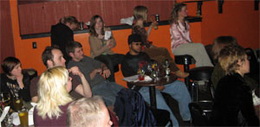 loading...
Blog: Plans filed for student apartment complex with more than 700 bedrooms near south Iowa Street

December 14, 2017 · 18 comments

Lawrence murder defendant claims shooting of intruder was legal under stand-your-ground law

December 17, 2017 · 3 comments

Editorial: The 'fake news' problem

December 14, 2017 · 32 comments

State Sen. Marci Francisco officially enters 2018 secretary of state race, wants to restore 'integrity' to office

December 15, 2017 · 7 comments

How tall is too tall? City contemplating downtown skyline, other big issues

December 17, 2017 · 1 comment

Alabama Senate race: Democrat Jones wins in stunning upset

December 12, 2017 · 52 comments

FCC votes along party lines to repeal 'net neutrality'

December 14, 2017 · 23 comments

Female candidate quits Kansas congressional race over 2005 harassment lawsuit

December 15, 2017 · 12 comments

Letter to the editor: Strategy for Trump

December 8, 2017 · 52 comments

Letter to the editor: Message to leaders

December 10, 2017 · 30 comments