Review: 'Business' succeeds at University Theatre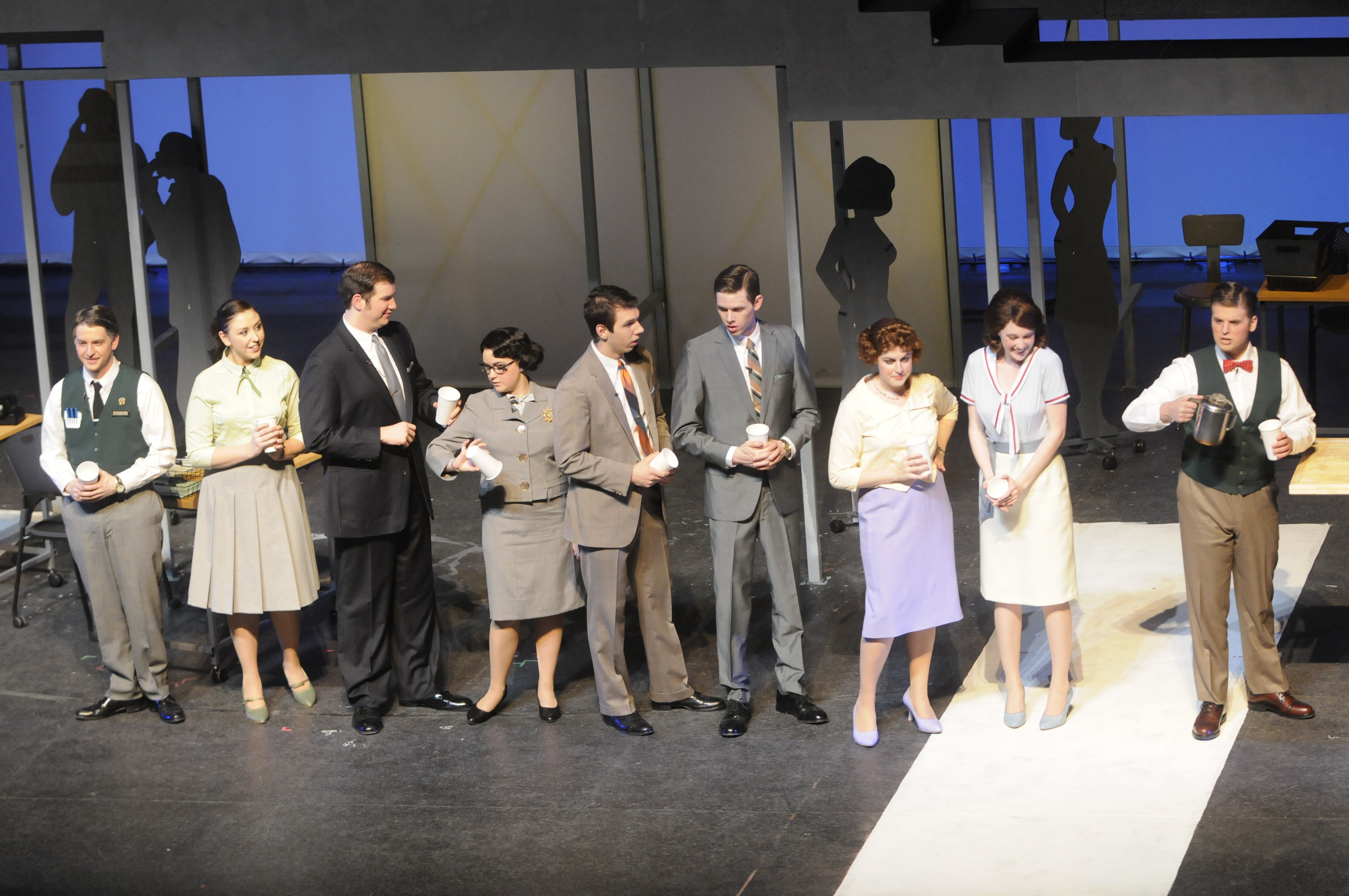 This review of "How to Succeed in Business Without Really Trying," which opened Friday at University Theatre, is from Dean Bevan, a retired Baker University English professor who lives in Lawrence.
What better time to laugh at the foibles of the business world than now? Take a break from anxiety over trillion-dollar bailouts and see University Theatre's "How to Succeed in Business Without Really Trying," where corporate scheming and incompetence are obvious but safely contained within an entertaining evening of music and dance. And how long is it since you've seen a musical without a single subpar voice in a cast of 14? Hear these, and believe.
Adroitly directed by Mechele Leon, this '60s classic follows the rise up the corporate ladder of young J. Pierrepont Finch, handsomely played by Elliot Metz. Opportunistic but engaging, Finch charms, backstabs, lies and improvises his way to the top. He's aided by the secretaries' network, including the smitten Rosemary Pilkington (given a very sympathetic portrayal by Mary McNulty) and the boss' secretary, Miss Jones (starchily played by Nora Woolpert).
The stereotypes are all here: the lecherous executive (Mr. Gatch, played by Logan Walker), the company man (Mr. Twimble, played by David Stogsdill) and many more. Characters played as broadly as these must be spot-on or the production misses the mark, but there are no disappointments here.
Jeff Sears gives the CEO Mr. Biggley just the right blend of canniness and cluelessness. Sam Beasley as Bud Frump, Biggley's nephew, is nepotism itself with his air of entitlement and peevishness. And Cassandra Hollmann is a pitch-perfect Hedy LaRue, the sexy secretary who can't take dictation and types 12 words a minute, with her little-girl voice and mincing gait.
John Gronbeck-Tedesco's voice gave a deadpan, portentous reading of the how-to "Book" that Finch follows in his quest. Lawrence physician Steve Bruner's appearance as chairman of the board Wally Womper in the second act carried enough gravitas to instantly reduce the stature of the all-powerful Biggley.
"How to Succeed" is filled with songs — 15 of them — yet only one, "I Believe in You," has lodged in popular consciousness over the years. The rest, if not as memorable, are made effective by the energy and personality the cast brings to them, and by the show's lively choreography, courtesy of Michelle Hayes and John Staniunas. "A Secretary is Not a Toy," the hilarious "groundhog" fight song "Grand Old Ivy" and the rousing "Brotherhood of Man" all show off the cast's moves especially well.
Credit Barbara Puckett's musical direction of the vocals with much of the show's polish. The five-member orchestra did a creditable job, but seemed a little thin for a task given thirty-plus instruments in a professional production.
The set, designed by Tammy Keiser, consists of a two-level open framework enclosing six rectangular office spaces — with the boss's office on top, of course. Ann Sitzman's effective lighting features a succession of brilliant colors projected onto a scrim behind the set. Costumes by Caleb Stroman take you right back to the late '50s and early '60s.
The show runs over two and a half hours, but the time passes quickly. It's clearly been well rehearsed, with a high level of gloss even on opening night. You'd enjoy it.
Additional performances are at 7:30 p.m. today, Wednesday, Thursday and Friday, and at 2:30 p.m. March 8.