LJWorld.com weblogs Bull Pen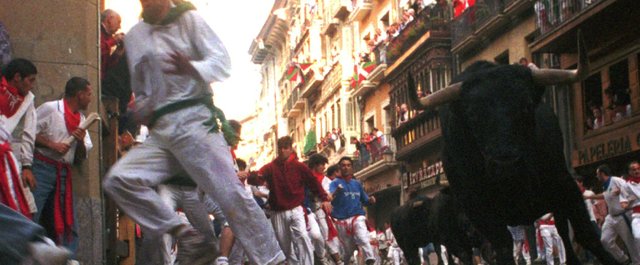 Where will 'Anchorman 2' stack up among the best journalism movies of all time?
Beautifully mustachioed news anchor Ron Burgundy – aka Will Ferrell – stopped by Conan Wednesday night with a very important announcement.
And it wasn't "Cannonball!"
No, Burgundy went on the air to let the world know that the Channel 4 News Team was coming back with a sequel to the 2004 blockbuster "Anchorman."
"I want to announce this to everyone here in the Americas," Burgundy said. "To my friends, in Spain, Turkey and the U.K., including England ... as of 0900 Mountain Time, Paramount Pictures and myself, Ronald Joseph Aaron Burgundy, have come to terms on a sequel for 'Anchorman.' It is official, there will be a sequel to 'Anchorman.' "
All we know right now is that Ferrell and "Anchorman" director Adam McKay are teaming up. As for possible plot lines, who knows? "Anchorman" took place in 1975, so it's possible the sequel will take place in the 80s, and we'll be able to relive the era of helmet-haired tortoise-shell glasses-wearing Dan Rather types and the ruffled collars that thankfully went out of style.
This brings me to a very important question posed by folks in the news business, and one that never has a singular answer. What's the best journalism movie ever made?
I submit these options, in no particular order.
All the President's Men (1976)
Often considered the greatest journalism movie of all time, "All the President's Men" is based on the book of the same title by Washington Post reporters Bob Woodward and Carl Bernstein. Their work on the Watergate scandal, with the help of an anonymous source named Deep Throat (later exposed as high-ranking FBI man Mark Felt), helped bring down Richard Nixon's presidency. It delves into the nitty-gritty of newsgathering, from Woodward and Bernstein squabbling over the right way to phrase a sentence to Jason Robards' Ben Bradlee taking a red pen to copy. But it's high in political drama, and the story stands the test of time.
State of Play (2009) Based on the BBC series of the same name, State of Play follows two reporters trying to find out how and why a young Congressional staffer dies. Russell Crowe plays Cal McCaffrey, an old ink-stained wretch, who thinks young blogger Della Frye, played by Rachel McAdams, represents the death of journalism. But the pair works together, uncovering a deep conspiracy that – shockingly! – leads to the highest corridors of power. Ben Affleck also stars.
Good Night, and Good Luck (2005) David Straitham (best actor) and George Clooney (best director) won Oscars for this black and white film tracing CBS newsman Edward R. Murrow's and producer Fred Friendly's targeting of Sen. Joseph McCarthy. As Murrow and Friendly seek to uncover McCarthy's campaign against Communism, the Red Scare bleeds into the newsroom, creating deep conflict.
The Year of Living Dangerously (1982) Mel Gibson, Sigourney Weaver and Linda Hunt star in this film about an Australian radio reporter on his first foreign assignment. Gibson's Guy Hamilton arrives in Indonesia amid political turmoil, and is at once smitten by Jill Bryant, a British diplomat played by Weaver. Hunt, who won an Oscar playing Billy Kwan, at once creepy and sympathetic, guides Hamilton through the murky waters of Indonesia as the country craters from within.
The Front Page (1974) Ben Hecht's play-turned-film about a grizzled Chicago newsman reporting his last story amid a cadre of hard-drinking, card-playing, fast-talking reporters is a classic. The 1974 version, which came out more than 40 years after the original film, stars Jack Lemmon as Hildy Johnson, as conniving and resourceful a reporter as there ever was. Lemmon's on-screen foil Walter Matheau plays Walter Burns, Hildy's shrewd editor at the Chicago Examiner. After a murderer condemned to death escapes, Hildy has to weigh his desire to get out of the news racket and move away with his fiancée against the competitive urge to get a big story. Hilarity ensues.
Anchorman (2004) Will Ferrell leads a misfit group of braindead TV reporters while attempting a romance with a lady anchor, something these guys can't even conceive. Throw in a news team gang fight, a unique translation of "San Diego," a jazz flute, and the laughs are inevitable.
Fletch (1985) What investigative reporter Irwin T. Fletcher, played by Chevy Chase, lacks in ethics, he makes up in one-liners and disguises. Thanks to him, we know everything is ball bearings these days.
Live from Baghdad (2002) On the eve of Operation Desert Storm, a CNN crew, led by Michael Keaton, braves bombs to snag an exclusive interview with Saddam Hussein. Based on a true story.
The China Syndrome (1979) Jack Lemmon tries to convince a TV reporter played by Jane Fonda that a California nuclear plant in on the verge of a meltdown. But not everyone wants that story to get out.
Absence of Malice (1981) Sally Field stars as an eager reporter who lets her ambition muddle her objectivity. Paul Newman also stars.
Nothing but the Truth (2008) Kate Beckinsale goes to jail to protect a source, and a secret. Especially poignant after the Scooter Libby saga, which saw New York Times reporter Judy Miller go to prison to protect a source.