Do you have any upcycled or repurposed items?
Asked at Home Depot, 1910 West 31st Street on January 6, 2013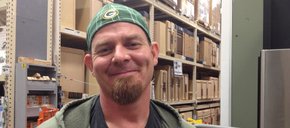 "The big Planters peanuts containers, I use them for holding nuts and bolts. "
"I just took a Cool Whip container for my markers "
"Not that I can think of off the top of my head. "
loading...
Blog: Popular barbecue restaurant set to open in North Lawrence, expand sauce bottling business

August 23, 2017 · 8 comments

Letter to the editor: 'Christian terrorists'

August 20, 2017 · 24 comments

Editorial: Renew transit tax

August 23, 2017 · 4 comments

Trump revisits his Charlottesville comments in angry speech

August 23, 2017 · 7 comments

Amid anti-Confederate wave, Lecompton sites walk a fine line

August 20, 2017 · 44 comments

HERE apartment complex to pay for Fambrough Drive project, must forgo hundreds of thousands in incentives

August 21, 2017 · 17 comments

Uncounted Kansas ballots fuel fears about Kobach's proposals

August 23, 2017 · 4 comments

Missouri governor hints at consequences for Trump assassination post

August 23, 2017 · 2 comments

Running out of room, Douglas County is studying solutions to its downtown space needs

August 23, 2017 · 2 comments