Staff Blogs
Lawrence High
Free State
Bishop Seabury
Veritas Christian School
Latest Photo Gallery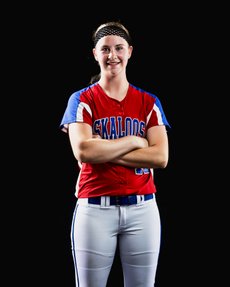 2014 Journal-World All-Area Softball
Portraits of members of the 2014 J-W All-Area Softball Team. Not pictured: Moriah Kayhill, Wellsville.
Latest Photo Gallery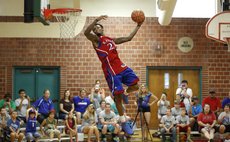 Sir McLemore Summer Slam
Ben McLemore and some former and current Jayhawk players show off their dunking skills and play a little one-on-one with some of the younger fans.
Latest Photo Gallery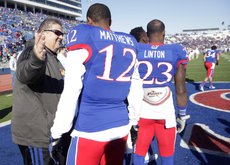 KU football vs. Kansas State
Kansas University lost to Kansas State 31-10 in the final game of the season, Saturday at Memorial Stadium.
Podcasts
Spodcasters
Jamari Traylor and Brannen Greene talk about their improvements and the KU freshmen - Spodcasters
Top stories
More Sports
Staff Reports
July 30, 2014
Briana Evans, an outfielder who started all 52 games for Ball State last season, will transfer to Kansas University, KU coach Megan Smith announced Tuesday.
Associated Press
July 30, 2014
Chiefs linebacker Derrick Johnson is beginning his 10th season, coming off his third Pro Bowl and closing in on the franchise record for tackles — he needs 19 to reach 1,000 for his career, which would be one more than Gary Spani recorded from 1978-86.
By Gary Bedore
July 30, 2014
So far, two high school basketball players have said they'll be attending the Oct. 10 Late Night in the Phog. They'll be able to visit with another accomplished big man — former KU center Joel Embiid. By Gary Bedore
League touts title purity — except when, you know, there's a tie
By Benton Smith
July 30, 2014
The Big 12 Conference's ability to implement a full round-robin schedule distinguishes it from the other four power conferences, all of which boast more than 10 teams. It is that unique characteristic that led the league to its slogan: one true champion. By Benton Smith
Associated Press
July 30, 2014
James Shields acknowledged that he didn't have his best stuff Tuesday night. He has the bruise on his rump to prove it.
Associated Press
July 29, 2014
The Toronto Blue Jays have traded right-hander Liam Hendriks and catcher Erik Kratz to the Kansas City Royals for infielder Danny Valencia.
Staff Reports
July 29, 2014
Free State High senior Gabbi Dabney took 18th place, and senior Kiara Clark finished 27th in the girls' 17-18-year-old heptathlon at the AAU Track and Field Junior Olympics at Drake University last weekend.
By Matt Tait
July 29, 2014
Associated Press
July 29, 2014
After watching three linemen who started last season depart in free agency — all within hours of each other — the Chiefs are trying to cobble together some sort of protection for quarterback Alex Smith that can also manage to open up running lanes for Jamaal Charles during training camp.
By Benton Smith
July 29, 2014
It takes a special kind of confidence and optimism to represent Kansas University football. By Benton Smith
By Tom Keegan
July 29, 2014
Vote for the player you think will lead KU in rushing and see if you can find five buddies to pony up for a friendly competition. By Tom Keegan
By Gary Bedore
July 29, 2014
Miami Heat veteran combo guard Mario Chalmers knows it won't be easy to win championships in the post-LeBron James era. By Gary Bedore
J-W Staff Report
July 28, 2014
Hunter Mickelson and Landen Lucas will be playing basketball for all-star teams overseas in coming weeks.
Associated Press
July 28, 2014
The Kansas City Royals have six games remaining with Cleveland. Maybe they will figure out how to get out Carlos Santana before they meet again in late August.
Staff Reports
July 28, 2014
Local mixed martial arts fighter Zak Bucia lost by unanimous decision in his bout against Rudy "Bad News" Bears on Saturday in the main event of Shamrock FC at the Ameristar Casino.
By Gary Bedore
July 28, 2014
Stephen Zimmerman, a 7-foot, 240-pound senior center from Bishop Gorman High in Las Vegas, will make an official recruiting visit to Kansas University for the Oct. 10 Late Night in the Phog. By Gary Bedore
By Tom Keegan
July 27, 2014
This football season represents a litmus test for the toughness of the Kansas University sports fan. By Tom Keegan
Associated Press
July 27, 2014
The 38-year-old Cat Conti had been assigned to the Southeast Missouri State-Kansas game on Sept. 6, making her the first woman to work a football game in the Big 12 Conference.
Staff Reports
July 27, 2014
Prev Next

Find more businesses on Marketplace
Arts & Entertainment · Bars · Theatres · Restaurants · Coffeehouses · Libraries · Antiques · Services
AP College Football Coverage