Lawrence High
Free State
Bishop Seabury
Veritas Christian School
Latest Photo Gallery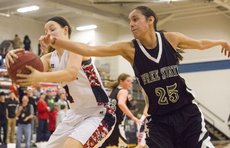 Free State-Manhattan girls basketball
Latest Photo Gallery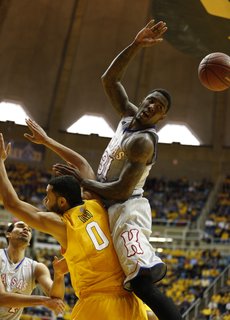 Kansas basketball v. West Virginia
Images from Saturday's game between the Jayhawks and Mountaineers in Morgantown.
Latest Photo Gallery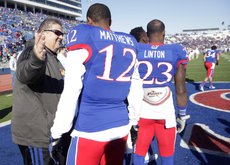 KU football vs. Kansas State
Kansas University lost to Kansas State 31-10 in the final game of the season, Saturday at Memorial Stadium.
Podcasts
Spodcasters
The KUsports.com crew's KU football signing day wrap-up - Spodcasters
Top stories
Staff and Wire Reports, 09:37 p.m., March 7, 2014 Updated 10:48 p.m.
By Bobby Nightengale,

March 8, 2014
J-W Staff Reports,

March 7, 2014
Staff Reports,

March 8, 2014
By Bobby Nightengale,

March 8, 2014
Staff Reports,

March 8, 2014
Staff Reports,

March 8, 2014
Staff Reports,

March 8, 2014
Associated Press,

March 8, 2014
More Sports
J-W Staff Reports
March 8, 2014
Kansas University men's basketball freshman Andrew Wiggins was named to the final John R. Wooden Award Ballot, announced Saturday by The Los Angeles Athletic Club on ESPN's College GameDay.
Staff Reports
March 8, 2014
By Matt Tait
March 7, 2014
Former Washington offensive coordinator Eric Kiesau was days away from a family trip to Hawaii — flip-flops and sunscreen packed — when he took a call from Kansas University O.C. John Reagan. Instead of soaking up the sun, Kiesau found himself on a 6 a.m. flight to Lawrence, where he met with Reagan and KU coach Charlie Weis about joining the Jayhawks as their wide-receivers coach. By Matt Tait
By Tom Keegan
March 7, 2014
About the only things senior Keith Loneker didn't do Thursday night for Free State High in its 74-60 sub-state opening victory at Derby High were miss a shot from the field and blow out 18 birthday candles. By Tom Keegan
March 7, 2014
Lawrence High's boys basketball players were happy with their 62-45 victory over Gardner-Edgerton in the first round of Class 6A sub-state Thursday at LHS. They cherished it so much more after finding out one of their coaches is fighting for his life. By Bobby Nightengale
Staff Reports
March 7, 2014
The Kansas University baseball team has canceled its make-up game against Creighton, scheduled for Wednesday, and instead will play Oral Roberts at 3 p.m. Tuesday.
Staff Reports
March 7, 2014
Lawrence High senior Kierstan Warren bowled a 652 series to finish third among 6A girls on Thursday at the state tournament.
Staff Reports
March 7, 2014
Makaila Garcia scored 18 points to lead Eudora over Ottawa on Thursday in a Class 4A-II girls basketball semifinal.
By Benton Smith
March 7, 2014
KU gets a rematch with the Wildcats at 6 tonight in Oklahoma City, site of the Big 12 Tournament. By Benton Smith
By Gary Bedore
March 7, 2014
Kansas University basketball coach Bill Self hopes freshman Andrew Wiggins will be named 2014 Big 12 Conference Player of the Year when the league reveals its annual award winners Sunday. By Gary Bedore
Staff Reports
March 7, 2014
Associated Press
March 7, 2014
Jose Abreu hit his first home run as a Chicago White Sox split-squad and the Kansas City Royals tied, 6-6, on Thursday.
J-W Staff Reports
March 6, 2014
Kansas University's men's basketball team and adidas unveiled the "Made in March Uniform System" for the 2014 NCAA basketball postseason Thursday morning.
Mack McClure/Special to the Journal-World
March 6, 2014
It makes for a difficult task when a team goes scoreless in the opening quarter, especially when it is going up against the No. 10-ranked team in the state.
March 6, 2014
Prev Next

Find more businesses on Marketplace
Arts & Entertainment · Bars · Theatres · Restaurants · Coffeehouses · Libraries · Antiques · Services
AP College Football Coverage