Three men charged in the Lawrence Motel 6 homicide case will continue proceeding through their murder trial as a group, a judge ruled Friday.
Defense attorneys for the men had requested they each be tried separately, saying a joint trial would hurt their clients' abilities to get a fair trial.
Douglas County District Court Judge Sally Pokorny said evidence in the case, along with case law, led to her decision to keep the defendants together.
Their two-week jury trial is scheduled to begin May 29.
While there are inconsistencies in witness statements — including from one of the defendants himself, who talked to police while hospitalized for a gunshot wound after the incident — they don't rise to the level of legal grounds to sever the trial, Pokorny said. Attorneys may take differing approaches with their defenses at trial, but those possible approaches do not appear to be mutually exclusive, Pokorny said.
Consistent among statements is that all three men were there, she said, although the injured defendant said they "didn't start it" and that the other men "started shooting at us."
Gunfire erupted about 11:30 p.m. Sept. 2, 2017, among a group of nine men who'd been partying inside Room 308 of Motel 6, at 1130 N. Third St. in North Lawrence. The shooting killed 23-year-old Cameron Hooks of Lenexa and injured two others.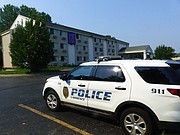 Charges and previous testimony allege that the three co-defendants and a fourth man — who hasn't been publicly named or charged — suddenly got up from different locations in the room and committed the shootings while trying to rob other men they'd been hanging out with.
The defendants are Tyrone J. Carvin, 19, of Kansas City, Kan.; Ramone Singleton, 23, of Kansas City, Kan.; and Shawn K. Smith, 19, of Kansas City, Mo.
Each is charged with one count of murder, for allegedly killing Hooks in the commission of a dangerous felony, armed robbery; one count of aggravated battery; one count of aggravated assault; and one count of attempted aggravated robbery.
They have pleaded not guilty and remain jailed on $1 million bond each.
The Motel 6 case is one of two murder cases with three defendants currently pending in Douglas County.
Attorneys in the other case — the Oct. 1, 2017, triple homicide on Massachusetts Street — also are requesting separate trials for their clients. Pokorny is scheduled to consider those requests on March 27.
For now, a two-week joint jury trial in the Massachusetts Street murder case is scheduled to begin May 14.
More coverage: Cameron Hooks homicide
• March 16, 2018 —
Lawrence Motel 6 murder defendants will face jury as a group, judge rules
• March 8, 2018 —
Judge: Murder defendant's hospital-bed statements may be admitted at trial
• Feb. 20, 2018 —
Motel 6 murder trial pushed back another three months
• Feb. 2, 2018 —
Judge says jurors may not take field trip to crime scene in Motel 6 murder case
• Nov. 21, 2017 —
3 men ordered to stand trial in Lawrence Motel 6 murder; witnesses describe 'bros' night' that ended in shootout
• Oct. 12, 2017 —
Three suspects in Motel 6 homicide to have joint preliminary hearing
• Oct. 4, 2017 —
3rd suspect in Motel 6 murder case arrives in town to face formal charges; bond set at $1 million
• Sept. 28, 2017 —
Police arrest third man in connection with fatal shooting at Lawrence Motel 6
• Sept. 21, 2017 —
2nd suspect arrested in connection with fatal Motel 6 shooting; bond set at $1 million
• Sept. 6, 2017 —
Suspect charged with murder during robbery at Motel 6, now jailed in Lawrence on $1M bond
• Sept. 5, 2017 —
19-year-old suspect to face first-degree murder charge in Motel 6 shooting
• Sept. 3, 2017 —
One person killed, two injured in North Lawrence motel shooting
Contact public safety reporter Sara Shepherd
Have a tip or story idea?
785-832-7187

---

More stories
Copyright 2018 The Lawrence Journal-World. All rights reserved. This material may not be published, broadcast, rewritten or redistributed. We strive to uphold our values for every story published.