Topeka — A bill that would make it easier for certain large-scale poultry producers such as Tyson to set up factory-scale growing facilities in Kansas is only one step away from being sent to Gov. Jeff Colyer.
The Kansas House gave first-round approval Friday to a bill that has already passed the Senate. The House made no changes to the bill, meaning that if it passes on final action Monday, it will be sent to the governor's desk for his signature or veto.
Senate Bill 405 would increase the number of birds that poultry producers could house in one facility by tenfold, to a third of a million birds, before they would be required to obtain a permit from the Kansas Department of Health and Environment that would require minimum setback distances from homes, other habitable buildings and property lines.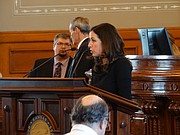 Passage of the bill has been a high priority for the Kansas Department of Agriculture and other farm-related business groups who see growth in the poultry industry as a way to increase the production of "value-added" food products in Kansas.
"It's an important bill to say that Kansas is open for business for poultry, something that the agriculture community wants," said Rep. Kyle Hoffman, R-Clearwater, who carried the bill on the floor of the House. "There are communities out there that are actively seeking companies to come in and begin making investments in their communities."
Concerns about regulating large-scale poultry producers rose to the surface in Kansas in September when Leavenworth County and then-Gov. Sam Brownback's administration agreed to offer incentives for Tyson Foods to build a $320 million slaughtering and processing plant outside Tonganoxie that could process up to 1.25 million birds per week.
That deal was canceled a few weeks later amid widespread public opposition. But Tyson is now considering other potential locations in Kansas, including Coffeyville in southeast Kansas.
Such a plant would get its supply of birds from what are called "confined animal feeding operations," or CAFOs, that produce birds on contract with the company.
Kansas law governing how CAFOs are regulated is based on the amount of manure an animal produces. The basic unit of measurement is one steer, which counts as one "animal unit."
A facility has to obtain a KDHE permit if it can house more than 1,000 animal units, and a conversion factor is then used to equate other animals with a single steer.
For example, a horse counts as two animal units, a grown pig weighing more than 55 pounds counts as 0.4 animal units, while lambs and sheep count as 0.1 animal units.
Under current law, a chicken counts as 0.033 animal units, if the facility uses a liquid manure system. But Senate Bill 405 would establish a new standard for poultry facilities using dry manure systems, counting those birds as 0.003 animal units, or one-tenth as much as a bird raised in a liquid manure facility.
Dry manure systems remove the liquid material from the droppings so that only the solid material is disposed of.
That would mean a facility could house up to 333,333 birds before it reaches the 1,000 "animal unit" threshold that would trigger the need to obtain a state permit.
Although some smaller facilities are still required to obtain federal permits that regulate their sewage treatment systems, state permits trigger additional regulations, including setback distance requirements from homes, other buildings and property lines.
Rep. Jim Karleskint, R-Tonganoxie, whose district includes the area where Tyson first proposed building a processing plant, tried unsuccessfully to add an amendment providing a mechanism for residents of a county where facilities are planned to circulate protest petitions and force a public vote before they could be allowed to develop.
Karleskint argued that the companies building those plants offer low wages and poor working conditions that could have a negative impact on the quality of life in a community.
"The children of 80 percent of the workers of this plant would be eligible for free and reduced lunch because of the jobs that were coming to town," he said. "Some of the workers in these plants, on the line, have to wear little diapers because they don't have the opportunity to use the restroom."
Opponents of the amendment, however, argued that requiring public votes could delay a projects by several months, forcing companies to look for other development sites instead.
Karleskint's amendment failed on a vote of 40-78. All members of the Lawrence delegation voted in favor of it.
Rep. Eileen Horn, D-Lawrence, also offered an amendment to reduce the number of birds that could be housed at a facility before it would need a permit, but that amendment also failed on an unrecorded voice vote.
The bill advanced to final action on a voice vote. The final vote to send it to Colyer is scheduled for Monday.
Copyright 2018 The Lawrence Journal-World. All rights reserved. This material may not be published, broadcast, rewritten or redistributed. We strive to uphold our values for every story published.