Topeka — The Kansas House gave first-round approval Tuesday to a bill that would establish a minimum age for people to run for statewide elected office.
The bill would require candidates to be "qualified electors" in Kansas, meaning they must be Kansas residents who are at least 18 years of age and not currently under a criminal sentence.
Supporters of the bill, including Rep. John Whitmer, R-Wichita, argued the number of underage candidates getting into the 2018 election, including some from out of state, has gotten out of hand.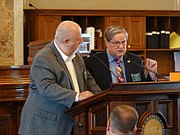 "In the last few days, we've had folks file petitions to register a treasurer from Pennsylvania," he said. "We've had two students from the University of Delaware that have filed to register for governor."
In the last several days, seven people who live in states other than Kansas have filed paperwork to appoint campaign treasurers so they can raise money for gubernatorial campaigns. The most recent was Jonathan Silverman of Short Hills, N.J., who submitted paperwork Tuesday.
Before them, however, a number of teenagers from Kansas filed to get into the race, including some who will not be old enough to vote for themselves in the Aug. 7 primary.
One of those is Tyler Ruzich of Prairie Village, a student at Shawnee Mission North High School, who won't turn 18 until September. He's running in the Republican primary for governor.
In a phone interview Tuesday, Ruzich said he sees no need for such a law.
"The best age requirement, in my view, is the voters, the democratic process," he said. "If the voters feel that, you know what, we're not old enough, that it's simply not viable for a teen to run a state, the voters aren't going to vote for us. They're going to vote for the other candidates.
"But if the voters are able to look past age and say, 'you know what, age doesn't matter; it's about the perspective, it's about the ideas to solve the problems of the state,' I assume they're going to be able to vote for us, or whoever they feel is able to provide the best solutions for the problems of this state," Ruzich said.
Rep. Vic Miller, D-Topeka, said he has been impressed with the teenagers who have gotten into this year's race.
"They represent a generation, a young generation," he said. "And I happen to think it's one of the best things to have come out of this election cycle, that we have these young people considering this step. And I do not fear their success."
As the bill is written, it would not affect those teenagers who are currently running in this year's election because the law would not take effect until Jan. 1, 2019.
The House rejected an amendment by Whitmer to move up the effective date so it would apply to this year's election.
The House also rejected several other amendments, including one by Miller that would have added language stating that people elected to statewide office other than lieutenant governor could not engage in any outside employment.
Miller said he omitted the lieutenant governor from his proposal because that job is presumed to be a part-time job. He said his main target was Secretary of State Kris Kobach, who continues to work as a private attorney representing businesses and municipal governments outside of Kansas.
But it also would have applied to Gov. Jeff Colyer, who continues to maintain a medical practice in addition to being governor.
The House also rejected an amendment by Rep. Kristey Williams, R-Augusta, to set the minimum age for governor and lieutenant governor at 30.
But the House approved an amendment by Rep. Adam Lusker, D-Frontenac, to strike language from the original bill saying a person had to be a resident of Kansas for four years prior to filing for office.
It also approved an amendment by Rep. Blake Carpenter, R-Derby, to add a requirement that candidates for attorney general must also be licensed to practice law in Kansas, a requirement that does not currently exist.
Carpenter, who at age 27 is the second-youngest member of the Legislature, was the main supporter of the bill setting the age limit.
"I understand that they want to have their message heard, and I think that there also are other ways that they can have their message heard," he said.
The House voted 73-43 to advance the bill to a final action vote Wednesday. Passage on that vote would send it to the Senate for consideration.
Copyright 2018 The Lawrence Journal-World. All rights reserved. This material may not be published, broadcast, rewritten or redistributed. We strive to uphold our values for every story published.