The family of the toddler killed in an accidental shooting last week in Lawrence has planned her funeral for Thursday, which would have been her second birthday.
Autumn Grace Smith, 1, was smiling, funny, full of life, happy all the time, loved to dance, loved to sing and "gave so much love" to her family, her mother, Megan Smith, said.
"We were just starting to see more and more of that character and that personality blossom," her mother said.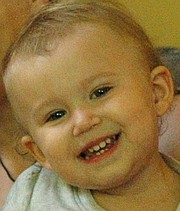 "Autumn was such a gift and such a blessing in the short time that we were given her."
The fatal shooting was reported shortly after 10:30 a.m. Friday at the family's home in the 600 block of North Michigan Street.
Lawrence police said they were investigating the incident as an accidental shooting and would forward their report, once complete, to the Douglas County District Attorney's Office for review. Police have provided no other details about the circumstances of the shooting.
Smith said she did not want to talk about circumstances of the accident, only saying that "the impossible was possible on Friday" and that she and her husband, Chance Smith, were devastated.
"It's everyone's worst nightmare," she said. "We are in so much disbelief, and it's unimaginable."
In July 2015, Chance Smith sustained a head injury on the job that left him critically injured and hospitalized for about two months.
Autumn was born about three weeks after he got home from the hospital and represented "hope" and "sunshine" for the family at that difficult time, Megan Smith said.
Smith said she had prayed for "long, beautiful lives" for both their children, Autumn and her 3-year-old brother Liam.
"We had so many things we were looking forward to doing with them, from simple family outings, to watching them grow and graduate and get married and have children, and to have grandchildren," Smith said.
Now, she said, they will focus on continuing to raise their son and heal from their loss.
Smith said she is leaning heavily on her faith and trust in God. She said the family has received an outpouring of support from friends, relatives and the congregation at their church.
Services for Autumn are scheduled for 10 a.m. Thursday at Christ Community Church, 1100 Kasold Drive in Lawrence.
Friends are raising money to help the family with funeral expenses through a GoFundMe page, online at gofundme.com/autumn-smith-family-fund.
The page describes Autumn as a child who "was loved tenderly and fully every day of her life."
The GoFundMe page notes that the family has worked through pain before and plans to focus on healing. It features this Bible verse, attributed to Psalm 34:18: "The Lord is close to the brokenhearted; He rescues those whose spirits are crushed."
Contact public safety reporter Sara Shepherd
Have a tip or story idea?
785-832-7187

---

More stories
Copyright 2018 The Lawrence Journal-World. All rights reserved. This material may not be published, broadcast, rewritten or redistributed. We strive to uphold our values for every story published.