The main suspect in this month's triple murder on Massachusetts Street has now arrived in Lawrence from Kansas City, Mo., where he was arrested and jailed a week ago.
Anthony L. Roberts Jr., 20, of Topeka was booked into the Douglas County Jail Tuesday morning, Sgt. Kristen Channel of the Douglas County Sheriff's Office said.
Last week, Roberts waived his extradition and agreed to return to Kansas to face charges. He has not yet made his first appearance in Douglas County District Court.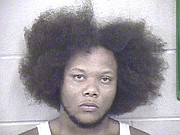 The Oct. 1 shootings around 1:40 a.m. at 11th and Massachusetts streets killed three people and injured two others.
Roberts is charged with one count of first-degree murder in the killing of 22-year-old Leah Brown of Shawnee. Charges allege he killed Brown during the "commission of, attempt to commit, or flight from" a dangerous felony: second-degree murder.
In the same complaint, Roberts also is charged with two counts of second-degree murder — one count each in the deaths of Colwin Lynn Henderson, 20, and Tre'Mel Dupree Dean-Rayton, 24, both of Topeka.
In a fourth count, Roberts is charged with attempted second-degree murder for allegedly shooting Tahzay Rayton, 19, of Topeka, "twice."
Two other Topeka men have been arrested and charged in connection with the incident, but neither has been charged with murder.
Contact public safety reporter Sara Shepherd
Have a tip or story idea?
785-832-7187

---

More stories
Copyright 2018 The Lawrence Journal-World. All rights reserved. This material may not be published, broadcast, rewritten or redistributed. We strive to uphold our values for every story published.