In the first three starts of Peyton Bender's Kansas football career, the desired results didn't always show up, but the junior transfer quarterback at least eclipsed 300 yards every week.
In three losses since, though, Bender's yardage production has declined, too: from 197 yards on 17-for-32 passing against West Virginia, to 146 yards after going 12-for-24 versus Texas Tech, to a rock-bottom 8-of-19 outing for 18 yards at Iowa State.
So where exactly does his confidence stand after a couple of rough weeks?
"I haven't noticed anything from Bender other than normal," KU head coach David Beaty responded. "He's such a calm, cool, collected guy. His demeanor doesn't change just a whole lot. I think that's a positive for him, because he keeps a steady demeanor no matter what."
At the season's midway mark, KU's starting quarterback has completed 55.2 percent of his 221 passes, for 1,391 yards, with eight touchdowns and nine interceptions.
KU Sports Hour
Was Iowa State David Beaty's worst loss?
On this episode of the KU Sports Hour, hosted by KU football beat writer Benton Smith, the KUsports.com staff discusses KU's 45-0 blowout loss to Iowa State. Topics include: What happened to KU's offense? (2:30-12:15), worst losses of the David Beaty-era (12:15-23:05), how potential staff changes would work (23:05-28:45) and the KUsports.com football mailbag — triple options, coaching searches and micromanagement (28:45-close). Music credit: Laser Groove Kevin MacLeod (incompetech.com) Licensed under Creative Commons: By Attribution 3.0 License http://creativecommons.org/licenses/by/3.0/
Bender said the wet conditions at Iowa State didn't play a factor in play-calling or the offense's putrid 106 yards in the loss.
The Jayhawks (1-5 overall, 0-3 Big 12) did play without starting center Mesa Ribordy for the first time this season at ISU. When prompted, Bender admitted the offense was challenged with overcoming a lack of cohesion on the offensive line, with Jacob Bragg filling in at center.
"Missing Mesa, it definitely hurts, because he's a great player. He's one of our best O-linemen," Bender said. "So not having him out there it definitely hurts. But guys are going to get hurt throughout the season. Guys aren't going to be able to play. It's next man up, and we've got capable guys at every position to get the job done. So we've just got to."
Bender stressed not worrying about "the uncontrollables" was key for him and his teammates. His head coach said he rarely sees the QB fret about anything — or get overly excited.
"I've seen him make ridiculous throws, and you're like, man, do you have a heartbeat? Are you OK? You should be jumping up and down. But he's just a steady guy," Beaty said of Bender. "Which you really appreciate that about him, because you know he's not going to get too high and he's not going to get too low. His confidence is fine."
Ahead of KU's trip to No. 4 TCU (7 p.m. kickoff Saturday, on FOX), Beaty said the footage of the 45-0 debacle at Iowa State showed how "every one of us" was responsible in one way or another for the offense's inept display.
"So I know it's vogue to try to find somebody to blame it on. The truth is, it's all of us. We've got to all work collectively together to get it fixed," Beaty offered.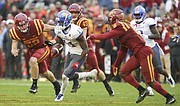 Few chances for Sims
As one of the many consequences of the horrible day for KU's offense, junior receiver Steven Sims Jr., who has two 100-yard games this season, only caught one pass for six yards.
Bender said Sims, who was averaging 5.3 receptions and 100 yards a game as a full participant (the junior played sparingly vs. Central Michigan when hurt) before the shutout, appropriately handled the disappointment of not having many opportunities to get involved.
"Steven's caught a million passes before. You've just got to shake it off, learn from it. Watch the film. Learn from it," the QB said of the message for KU's offensive players. "But the past is the past. You can't change it. You've just got to put it behind you."
Sims also muffed an early punt at ISU. Quan Hampton made two catches for nine yards and Ryan Schadler led KU with three receptions and 16 yards.
"All the guys are confident guys," Bender said of the receivers. "It just was one of those days where we couldn't get it to work for some reason. But we're all confident guys. We're confident in our ability."
With 22 catches, 406 yards and three touchdowns, Sims still leads KU in every major receiving category.
Meacham back at TCU
Before becoming KU's offensive coordinator, Doug Meacham spent the previous three seasons at TCU, as inside receivers coach and co-coordinator.
Meacham's return to Fort Worth, Texas, comes days after his Air Raid offense backfired in Ames, Iowa. His boss said the coordinator entered the week of preparation for No. 4 TCU (6-0, 3-0) just as Beaty expected.
"Man, I don't know how you could get any more juiced up than that guy lives his life, to be honest with you. He doesn't drink a lot of energy drinks, but he sure looks like it. He could be a poster boy for Red Bull and never have a drink of it. He's just got a lot of energy," KU's head coach said of Meacham. "He's a guy that coming in here Sunday, watching him with that team, you realize the type of talent that individual has. Watching how he handled the offense, how he handled that situation from Saturday, and handled it in reality. Not what perception is, because we don't get to live in perception. We get to live in reality and how we're going to fix it and the things that caused it and what we go to. He did a really nice job with the team and the rest of the staff."
Copyright 2018 The Lawrence Journal-World. All rights reserved. This material may not be published, broadcast, rewritten or redistributed. We strive to uphold our values for every story published.