A Lawrence man has been charged with rape, in connection with an incident that allegedly occurred more than a year ago.
Albert N. Wilson, 21, was arrested this week and appeared Friday in Douglas County District Court via video from the jail.
He was charged Wednesday with one count of rape, a felony. According to the charges, he is accused of raping a person who was 17 at the time in September of 2016.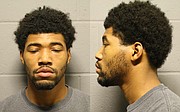 Wilson asked Judge James George to lower his bond, stating "I have no prior criminal history at all." However, the judge left his bond at $150,000.
The judge appointed attorney Forrest Lowry to represent Wilson and scheduled his next court appearance for Wednesday.
Contact public safety reporter Sara Shepherd
Have a tip or story idea?
785-832-7187

---

More stories
Copyright 2018 The Lawrence Journal-World. All rights reserved. This material may not be published, broadcast, rewritten or redistributed. We strive to uphold our values for every story published.