Prosecutors will not pursue a third trial against Galen Satoe, who was accused of raping a woman in his dormitory room in 2014.
On Thursday, after requests for information from the Journal-World, the Douglas County District Attorney's Office said in a release that prosecutors decided not to move forward with a third trial.
Satoe, 22, and Jared Wheeler, 21, were both accused of raping a 19-year-old Haskell Indian Nations University freshman on Nov. 15, 2014, in a dormitory room the two men shared.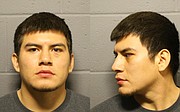 Since then, Satoe has faced two criminal trials; Wheeler faced one. All three proceedings were drawn out and mired in accusations of investigative shortcomings and a lack of evidence. The two men maintained throughout that the sexual encounter was a consensual threesome.
In the end, Satoe was acquitted of one felony attempted aggravated sodomy charge, but juries in both trials were unable to reach unanimous decisions on the remaining charges: two felony counts of rape, one felony count of aggravated criminal sodomy and one felony count of attempted rape.
Earlier this year, prosecutor C.J. Rieg told Judge Paula Martin that the district attorney's office ordered testing on additional evidence in the case. She did not, however, specify what would be tested.
In a hearing in April, Rieg said the testing was still not complete, but the state planned to move forward with the third trial and hoped to see the test results by the end of May.
It was not immediately clear on Thursday whether the additional testing was complete or what the results might be, but the DA's release noted that prosecutors would not have additional evidence for a third case.
"The State remains convinced this crime occurred; however, without additional evidence to present to a jury, we cannot conclude that another trial would result in a different outcome," the release said.
Satoe's attorney, Angela Keck, did not return phone calls seeking comment on Thursday.
The DA's release said the office would not comment further on the case.
Wheeler's first and only trial also ended with a hung jury in June 2016. After the trial, in November 2016, he pleaded no contest to a single felony count of aggravated battery and was sentenced to 60 days in jail, the maximum amount of time Martin could give him. He will also serve two years of probation.
Throughout all three trials, defense attorneys questioned the investigative techniques used by the Lawrence Police Department. In one instance, a detective forgot to situate Satoe facing a camera during a filmed interview. In addition, officers admitted they did not interview a number of potential witnesses until weeks or months after the reported incident.
Also during the trials, a Lawrence Memorial Hospital nurse said she failed to follow policies requiring her to collect clothing as evidence when she examined the victim after the incident. The pictures she took of the victim's reported injuries were also largely unusable because they were too dark or out of focus.
All the while, prosecutors maintained the evidence available proved Satoe and Wheeler's guilt.
Both men were expelled from Haskell after the incident.
Copyright 2018 The Lawrence Journal-World. All rights reserved. This material may not be published, broadcast, rewritten or redistributed. We strive to uphold our values for every story published.