Staff and parents at Sunset Hill Elementary School were informed Wednesday afternoon that Andrea "Andi" Stipe, the school's tentative new principal, has declined the position, district spokeswoman Julie Boyle told the Journal-World.
The district originally announced Stipe's hiring as principal, pending school board approval, on Monday. The school board was set to approve Stipe's hiring during the special meeting called Wednesday night to address the search for an interim superintendent.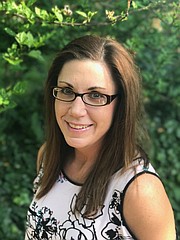 Wednesday's note to the Sunset Hill community didn't provide an explanation behind Stipe's decision to decline the principal position, though it did provide some information about the district's selection process for the position. That process includes "in-depth research into a candidate's background and work history," as well as interviews with human resources staff, the Superintendent's Leadership Team and a building-level advisory team made up of teachers and parents, Boyle said.
"Andi Stipe emerged from all three interviews as the top candidate. She has a solid educational background, impeccable references, 18 years of professional experience, including success with diverse student populations, and an educational mindset that aligns with the district's mission, vision, values and goals," Boyle said in the email. "The district offered Andi the position and upon receiving her acceptance, announced in a public release on Monday her selection, pending board approval."
Stipe, who would have joined the Lawrence district after several years as an administrator in Kansas City, Kan., public schools, would have succeeded outgoing Sunset Hill principal Darcy Kraus in the role. Kraus is transferring to an administrative role in the Lawrence district offices this summer, pending school board approval.
The district will re-evaluate how to fill the Sunset Hill vacancy, Boyle's email said, and keep Sunset Hill staff and parents informed as soon as additional information becomes available.
Copyright 2018 The Lawrence Journal-World. All rights reserved. This material may not be published, broadcast, rewritten or redistributed. We strive to uphold our values for every story published.