Topeka — Former Rep. Joshua Svaty announced Tuesday that he will seek the Democratic nomination for governor in 2018.
Svaty, 37, from Ellsworth, served two and a half terms in the Kansas House from 2003 to 2009 representing the 108th District in the Kansas House. He resigned to accept an appointment from then-Gov. Mark Parkinson to become secretary of Agriculture at the age of 29.
In a statement released just before his scheduled announcement from the dock of the Ellsworth Co-op in the nearby town of Blackwater, Svaty said the 2018 election will be a referendum on the direction the state will chart for its future.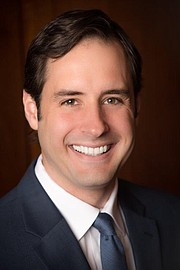 "The people of Kansas sent a loud message in the 2016 election that they are ready to change direction," he said in prepared remarks released to news outlets before the announcement. "The new legislature has started to forge a path, but it also exposed a core problem: leadership matters and our Governor matters. And the next Governor in particular will matter."
Svaty's announcement sets up a primary for the Democratic nomination next year. Former Wichita Mayor Carl Brewer has already announced his candidacy. And House Minority Leader Jim Ward, also from Wichita, is said to be eyeing the race.
In the Legislature, Svaty was known for supporting environmental issues, but he also generally supported restrictions on abortion rights, an issue that is as divisive within the Democratic Party as it is within the Republican Party.
In an interview with the Journal-World before his announcement, Svaty said he thinks he can work with both sides on that issue.
"I did represent a very conservative district," he said. "You learn very valuable qualities when you represent a constituency that challenges you on some issues and where you challenge your constituents on some issues."
He also said there are other, more pressing issues facing the state and that "from a state perspective, there is very little more that can happen (regarding abortion). As governor, I would represent the interests of the entire state."
Svaty is a fifth-generation Kansan who was raised on a farm just outside of Ellsworth. His wife, Kimberly Svaty, operates a lobbying firm that represents wind energy interests, the city of Wichita, municipal utilities and the Greater Kansas Racing Alliance.
They have three children and are expecting a fourth child this fall.
Copyright 2018 The Lawrence Journal-World. All rights reserved. This material may not be published, broadcast, rewritten or redistributed. We strive to uphold our values for every story published.