Lawrence resident Jennifer Ananda has filed for election to the Lawrence City Commission.
Ananda, who has a background in law and social work, said her decision to run for the commission is a proactive one. The commission began a new strategic planning process this year, and Ananda said she'd like to be a part of planning the future of Lawrence.
"I think that in order to grow and remain a place that people want to come live we have to have some kind of plan in place," Ananda said. "And so continuing to hone and grow that plan, looking at developing our community and how we can do that in a way that's not reactive, in a proactive way, I think that is really important."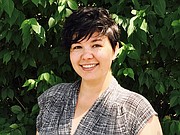 Originally from Girard, Ananda moved to Lawrence 17 years ago to attend the University of Kansas. She earned undergraduate degrees in film and English and later graduated with a law degree and a master's in social work. She is currently the deputy Title IX coordinator and policy specialist for KU's Office of Institutional Opportunity and Access, which handles complaints of discrimination and harassment at KU and coordinates related training for staff and students.
When considering the growth and future of Lawrence, Ananda said she'd like to address issues affecting Lawrence's neighborhoods. She said one example is balancing new development in East Lawrence.
"How do we maintain a sense of community and that small-town feel while also ensuring that that community will be here in the future?" Ananda said.
Currently, Ananda is a member of the Community Mercantile board and board president of the Waldorf Association of Lawrence. Ananda said that as she has raised her family and developed her career, she's also had a sense of duty to serve her community.
"I just think it's important that when something is important to you to do what you can to preserve it, make it better and make it sustainable," Ananda said.
The terms of commissioners Lisa Larsen, Mike Amyx and Matthew Herbert are expiring this year. Ananda is the fifth candidate to file for the election, following filings by Herbert, Larsen, Bassem Chahine and Dustin Stumblingbear.
The filing deadline for the City Commission race is noon on June 1. Candidates will have an Aug. 1 primary, if needed, and the general election will be on Nov. 7. Primaries will be scheduled only if the number of candidates who file is more than two times the number of open seats.
Copyright 2018 The Lawrence Journal-World. All rights reserved. This material may not be published, broadcast, rewritten or redistributed. We strive to uphold our values for every story published.