Lawrence schools Superintendent Kyle Hayden has appointed Diane Spicer as the district's principal of adult learning and transition programs.
Spicer succeeds Rick Henry, who last week was named the district's new director of high school support. She is currently in her fourth year serving as an assistant director under Henry. In her new position, Spicer will oversee the district's adult basic education and English as a Second Language services, GED preparation, and the Lawrence Diploma-Completion and Suspension Alternative Programs, as well as the educational programs operated in partnership with the Douglas County Youth Services at the Northeast Regional Juvenile Detention Center.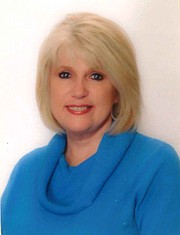 "After assisting Rick Henry in this role for four years, Diane has the ability to seamlessly transition into the lead role and continue working to support our adult learners and students who are in need of an alternative space and methods of support to be successful," Hayden said in a news release. "Her prior experience as a high school principal will serve her well as she becomes an integral part of the high school principal team, working closely with the principals at Lawrence and Free State High Schools, the College and Career Center and Lawrence Virtual School."
Spicer joined Lawrence Public Schools in 2002 as a learning strategist serving students of the day school at the Northeast Regional Juvenile Detention Center, according to the district's news release. Her previous experience includes nine years as a principal and assistant principal in Pittsburg, plus 12 years as a guidance counselor and English teacher in Enid and Carmen, Okla.
Spicer holds bachelor's and master's degrees from Northwestern Oklahoma State University, the news release said.
"The educational programs at Douglas County Youth Services, the Suspension Alternative Program and the Adult Learning Center provide opportunities and assistance to students to help them reach their educational goals and to open doors for them in the future," Spicer said in a statement. "The staff are experienced, dedicated professionals devoted to student success. I feel honored to be selected to work with staff and students in this new role, as we continue to move forward in enhancing our services to assistant students and adults in the best way possible."
Copyright 2018 The Lawrence Journal-World. All rights reserved. This material may not be published, broadcast, rewritten or redistributed. We strive to uphold our values for every story published.