"Citizen: An American Lyric," Claudia Rankine's award-winning 2014 work about race relations in everyday American life, has been chosen as next year's University of Kansas Common Book.
Howard Graham, associate director for academic programs in KU's Office of First-Year Experience, said the choice was meant to "build on the foundation" created by the university's 2016-2017 Common Book, Ta-Nehisi Coates' "Between the World and Me." Rankine's work muses on many of the same themes central to Coates' 2015 National Book Award winner, among them the challenges of being black — or perhaps more broadly, not white — in contemporary American society.
"It's about social justice or social injustice; it's about citizenship and who gets to claim that and identify themselves or be identified as citizens; it's about belonging," Graham said. "And those things are important on this campus. They're important in this state, and they're important nationally."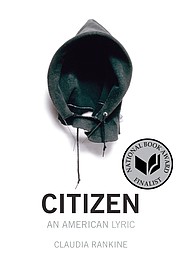 As with past Common Books, incoming freshmen and transfer students will each receive a copy of "Citizen" at orientation and participate in discussion groups this August. A series of programming, including a visit from the author in September, has been planned for the 2017-2018 school year. The book will also be used in a variety of courses across KU, Graham said.
But "Citizen" also differs from previous Common Book selections, Graham said. The book, which has been described by critics as genre-bending, mixes prose, poetry, and images from contemporary artists such as Carrie Mae Weems and David Hammons. In "Citizen," Rankine presents the experiences of everyday figures as well as public figures from sports and media, "combining the familiar with the unfamiliar," as KU's announcement earlier this week described it, "prompting further exploration and consideration."
"By reading 'Citizen,' new students will become part of important conversations at KU about how we decrease and eliminate microaggressions and help one another thrive," Sarah Crawford-Parker, assistant vice provost for KU's First-Year Experience, said in a statement. "Also, 'Citizen' is an excellent example of how literature and art can be a vehicle for tackling difficult issues."
The book has garnered several awards since its release in 2014, including that year's National Book Critics Circle Award in Poetry, the Los Angeles Times Book Prize in Poetry, the NAACP Image Award for Outstanding Literary Work in Poetry and the PEN Open Book Award. It was also a finalist for both the 2014 National Book Award in Poetry and the 2014 National Book Critics Circle Award in Criticism.
Rankine's visit is scheduled for 7 p.m. Sept. 7 at the Lied Center, 1600 Stewart Drive. Details about the 2017-2018 KU Common Book programming, all of which is free and open to the public, can be found at firstyear.ku.edu.
Copyright 2018 The Lawrence Journal-World. All rights reserved. This material may not be published, broadcast, rewritten or redistributed. We strive to uphold our values for every story published.