University of Kansas distinguished professor of ecology and evolutionary biology Jorge Soberón will deliver his inaugural lecture, "From Policy to Theory: Geographic Distribution of Species," at 5:30 p.m. Tuesday in Alderson Auditorium of the Kansas Union.
Soberón, also a senior scientist at the KU Biodiversity Institute, joined KU in 2005 and was named distinguished professor in 2014.
He specializes in theoretical population ecology, conservation biology and informatics and policy for biodiversity, according to a KU announcement about the lecture. His work collaborates with computer scientists and colleagues at other universities and helps improve conservation planning.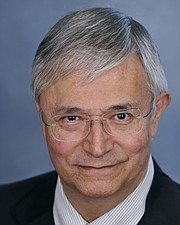 "I will be telling the story of how I got to study this as a consequence of having worked for an agency of the Mexican federal government," Soberón said, in KU's announcement. "How the need to answer pressing and urgent questions by a government — on species conservation, invasive species and vectors of diseases — later led to posing questions of theory, and in the end, to my current area of research."
Soberón has published more than 150 scientific papers, chapters, books and science popularization articles, and his work has been cited more than 16,000 times, according to KU. In 2015 and 2016 he was in the top 1 percent most-cited ecologists in the world.
Contact KU and higher ed reporter Sara Shepherd
Have a tip or story idea?
---
More stories
Copyright 2018 The Lawrence Journal-World. All rights reserved. This material may not be published, broadcast, rewritten or redistributed. We strive to uphold our values for every story published.